The Vanguard Blog for Advisors has a recent post about how we're now in the 3rd biggest bull market since 1929, which followed the 2008 financial crisis, also known as the 3rd biggest bear market since 1929. The takeaway is that none of us know the future, so advisors need to convince their clients to rebalance their portfolios both in good times and bad.
Remember, rebalancing is not about maximizing returns, reversion to the mean, or market forecasts—it is about maintaining the risk-and-return characteristics of the portfolio an investor selected based on his or her unique time horizon, risk tolerance, and financial goals. In contrast to market predictions, rebalancing is within your clients' control.
That's all well and good, but included was this curious chart with the title "Rebalancing: Asset allocations show trend following":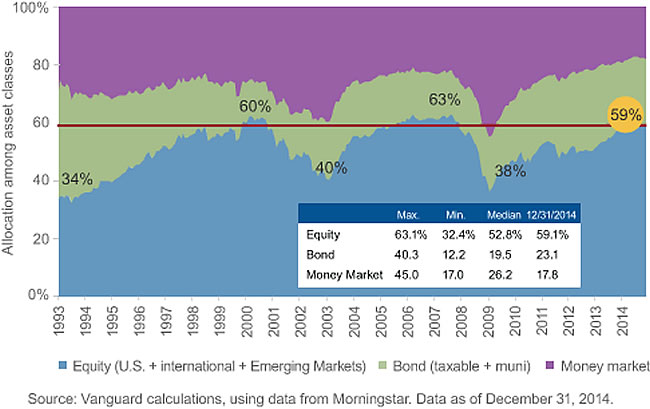 This chart confuses me. I assume it is supposed to show that when stocks go up, people buy more stocks and when stocks go down, people sell off their stock allocations. But if for every trade there is both a buyer and a seller, then who is taking the other side of all these trades? For instance, if everyone is buying stocks now, who are they buying it from? Is this only retail investors and the other buyers are institutional investors? Or is this chart mostly just showing changes in overall market-cap?