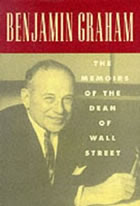 Benjamin Graham is considered the father of stock analysis and value investing, with his books Security Analysis and The Intelligent Investor (first published in 1934 and 1939, but since revised many times) still considered must-reads today. He has many well-known disciples, Warren Buffett being the most famous one. Relatively early in his career, he experienced the Great Depression. I found this quote from his memoirs via The Biz of Life:
The Crash reaffirmed parsimonious viewpoints and habits that had been ingrained in me by the tight financial situation of my early youth but which I had overcome almost completely in the years of success.I blamed myself not so much for my failure to protect myself against the disaster I had been predicting, as for having slipped into an extravagant way of life which I hadn't the temperament or capacity to enjoy. I quickly convinced myself that the true key to material happiness lay in a modest standard of living which could be achieved with little difficulty under almost all economic conditions.
Security analysis is all about managing risk and keeping a margin of safety. In my mind, Graham realized that a modest standard of living is part of keeping a margin of safety for your personal finances.