This post is targeted for those who have the grandfathered cell phone plan called the Sprint Employee Referral Offer (SERO) plan. This plan is no longer available to the general public, but for $30 a month it gave us 500 minutes per month, unlimited 7pm nights and weekends, unlimited text messages, and unlimited data.
Many of us love the plan, but it appears that Sprint really wants to phase us out, or at least upgrade us to their new Sprint Everything Plus Referral Program (EPRP)* where a similar plan costs $60. They are doing this by not allowing many newer phones to be activated on SERO, including the Samsung Instinct HD, Palm Pre, and HTC Hero (Android OS) phones. It seems like they will continue to ban all the best new phones. Here's what I did to keep my $30 SERO plan and still get a relatively snazzy phone for a net cost of $130.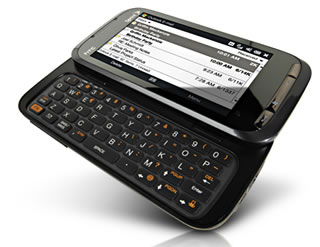 $70 Credit For Extending Contract By 2 Years
Do this first! Follow the abbreviated directions below exactly from user t-bob of SlickDeals. Do not call in. It will extend your contract by 2 years, but you'll still be eligible for the $150 phone upgrade credit.
At 22 months you are eligible to renew your contract. When you are eligible, login to your account at sprint.com and click on the "contact us" link at the top right of the page in the black bar. Click on the "Email us" link. Search for something like "renew contract". Now you should finally be at the web form to submit an email to Sprint eCare. For topic select "Plans, features, and services" and for subtopic select "Plan inquires." In the text box say that you have heard that there is a $70 service credit available for renewing your contract and you would like to take advantage of that.
HTC Touch Pro2 for $199
You should get a reply within 24 hours that you can get the $70 credit. Verify online by checking that you now have a negative balance. Now, what's the best phone that you can get to work with SERO? The answer in my opinion is the HTC Touch Pro2. Previously, the issue was that it cost $350 even after a $100 mail-in rebate. However, simply visit this link first, and then you'll see the Touch Pro2 for only $199 on Sprint.com with no rebates. I thought it was just Sprint.com, but it was because I first saw this thread on Fatwallet. It checked out fine for me, and I already have my UPS tracking number.
Update 10/15/09 3pm Pacific: It appears this may no longer work on SERO plans. If you already got the $70 credit, you can either use eCare and tell them you changed your mind and have them reverse it, or you can wait to see if the price will drop again as the holidays near. Samsung Intrepid which runs Windows Mobile 6.5 is also available. Again, your contract will just shift to 2 years past your new purchase date.
You can read reviews of it here, here, and here. When you buy the phone, your contract will be extended again just slightly to 2 years after your purchase date.
It may not be the best phone out there now, but it does have a nice-looking touchscreen, a big physical keyboard, and access to a decent number of useful applications including Twitter, Facebook, Opera Mini, and Skyfire. All for $130 net. I can even tether it using PDANet and make it a wireless modem for my laptop, which I've been doing with my Motorola Q for the last 2+ years.
If you really want an iPhone or other specific phone and are willing to pay $30-$40 more per month for it, then I would say go for it because this plan won't last forever. I'm just not ready to pay an additional $1,000 over the next 2 years just yet. 😀
* Russ.S.McGuire@Sprint.com / 383