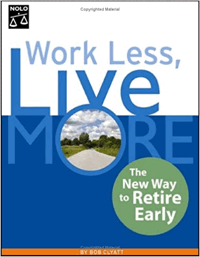 My philosophy on financial freedom essentially boils down to believing you have the power to make choices that affect your life. Do not accept that the world is against you and that there is no point in trying. Everyone is dealt different cards, but it's how you play them that matters. Your job title, your employer, the number of hours per week, where you live, the size of your home, your commute time, how you spend the 4 hours each day that most people spend watching TV – these are all variables that you can change. Be different. Or don't. But choose them consciously.
The WSJ article Would Life Be Better if You Worked Less? (gift article, should bypass paywall) shares the stories of several Americans trying to "live more" by shifting to part-time hours or four-day workweeks and accepting the accompanying lower income.
Granted, I don't know if I would have used a "part-time" neurosurgeon still working 40+ hour weeks as my first example. Of course, if you have a high income, then you are ideally suited to cut back your working hours and still maintain a comfortable lifestyle. For others, a few years of high savings rates may be required first to help you build up that financial base so that you can eventually cut back hours or otherwise take more risks to improve your life.
I found this quote interesting about how a little work is good to provide us with a feeling of purpose and value, but you don't need a lot. This would support the concept of assuming you'll work a little forever, which should lower the savings requirement to reach that point. It doesn't have to be all or nothing.
Humans need work to give structure to our days, to bestow purpose and self-esteem, he says. But we don't need that much of it. A 2019 paper from Prof. Burchell and several co-authors found that people performing one to eight hours of paid work a week got the same mental health boost—less anxiety, less depression—as those who work 44 to 48 hours a week.
The referenced 2019 paper appears to be this one: An exploration of the multiple motivations for spending less time at work, which includes many more stories and quotes from people tinkering with the amount of time that they work.
The paper separates negative "push" factors like long hours, work intensity, and low job satisfaction and "pull" factors like realizing your life is short and time is limited, the attraction of leisure activities, the desire for freedom in general, family concerns, and the ability to varied and more fulfilling work.
The main purpose of sharing all of these examples is to show you that there isn't just one path. There are many other people who are purposefully working less than full-time, making less income than they could make, and getting something they value in return (the time to do something else). You may be inspired.
It would be nice if these articles dived more deeply into the sacrifices made before and during the switch to such part-time status. How did they negotiate a 4-day workweek with their employer? How do they plan to compensate for the added risks like cut hours during a recession, or the lack of benefits like health insurance? How long did they have to save to get there? In our case, I was only comfortable downshifting after first working 40 to 80 hours weeks and saving 50%+ of net income every year for a decade. We didn't retire completely from paid work into an ultra-frugal minimalist lifestyle, nor did we go for dual full-time high-powered careers with lots of outside childcare help, but gradually found an in-between path that worked for us.