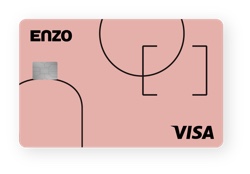 Enzo is another fintech app meant to manage all your money… Spending, savings, long-term investing. Via DoC, the catchy feature is 2% cash back on rent (subject to caps). They are also dangling the possibility of owning shares in the actual company. They are not live yet, but let's take a closer look.
Cashback on spending. From their disclosures (emphasis mine):
Earn 10% cashback on Uber, 5% on DoorDash, and 2% on rent, limited to $65 per calendar month and $500 per calendar year. Earn unlimited 1.25% cashback on everything else. Once the monthly and/or annual limits have been reached, you will continue to earn 1.25% on everything (excluding rent). Cashback on rent is limited to one transaction per month. Enzo reserves the right to request additional documentation providing proof that the payments are bona fide rent payments if it suspects unusual activity. Terms are subject to change. Cashback will be credited to your account the following month for qualifying transactions made the previous month.
If you only put rent on your debit Visa card, then you would max out the $65 monthly limit at a monthly rent of $3,350. However, you would max out the annual $500 cash back limit at a monthly rent of $2,083. At the US average rent of $1,100 a month for a 1 bedroom apartment, you would earn $264 a year in cash back at the 2% rate,
Checking account APY on savings. 0.50% APY as of 1/1/2022. This is about average for most online savings accounts. Banking services provided by Blue Ridge Bank N.A.; Member FDIC.
Investing. Very few details on this so far, beyond "$0 fee trading" which nearly every other broker already offers.
Equity in the company? Here's what they say:
Enzo is committed to helping you create wealth over time. That's why we are granting equity to our early members and reserving a piece of the company to permanently be owned by you.
From the disclosures:
All Enzo Waitlist members will be eligible to receive Enzo equity, and can earn additional equity by referring friends.
And curiously:
Equity is subject to terms and conditions and does not require opening an Enzo account. Terms for receiving equity available upon request.
I have sent an official email to hello@joinenzo.com to "request" this information, and will report back if they reply. Please let me know if you do the same.
Right now, Enzo has no app and no actual customers, so they are an imaginary fish in a big pond of fintechs. I still signed up on the waitlist with my e-mail since it is free with no commitment (that is my link). (You never know. I am old enough to have gotten free TravelZoo shares that actually materialized in the late 1990s.) In November 2021, this article announced a seed round with a modest $3 million in funding. Still, if you pay a decent amount in rent, it may be worth keeping an eye on this one.