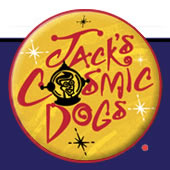 Here's a follow-up post to The Best Advice For A Teenager Looking For a Job. One of the podcasts I regularly listen to is the Alton Browncast (of "Good Eats" fame). Many topics are food-related but often it boils down to him talking with really interesting people. In one of his earlier episodes, he did an interview with Jack Hurley, who is the owner of Jack's Cosmic Dogs near Charleston, South Carolina.
Jack Hurley has started 6 restaurants and a few other businesses. Early in the interview, he discusses the creation of his popular, retro hot dog stand. It turns out, Jack wanted to start a simple business so that he could give his kids a job and teach them how to run a restaurant. His two sons were a freshman and sophomores in high school at the time. Here's my transcript of that part of the podcast:
…We had to make it simple for high school kids to do… I told my sons, now watch this, your mom and I are going to create this place in one month, we're going to paint it, do the logo, do the recipes, in one month. I want you to understand, that if at some point in your life you are tired of working for The Man, that you have this creative gene in you. We're going to do this so fast it's going to shock you.
Obviously not every parent will have the means or ability to do this, but I thought it was a pretty cool idea (and their hot dogs look yummy). From what I can tell, Cosmic Dogs has been around now for over 10 years, so I wonder if his sons indeed took to the entrepreneurial path?