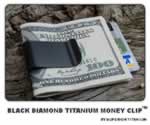 A few months ago, Dan of SuperiorTitanium.com approached me about advertising rates for his website selling titanium money clips. Although money clips are somewhat financially related, I thought it would be an even better fit to do an interview with him in exchange for some publicity. (No money changed hands at all.)
I'm always interested in the what I call micro-businesses run by one or two people, especially those selling physical products. Mainly, this is because I've always been turned off by selling physical goods, and have preferred to make money by either selling advertising online or by performing services. Let's get to the interview:
Where did you get the idea to sell titanium money clips? Why titanium?
I'm an mechanical engineer and I've always had an interest in all things mechanical. Titanium itself is a very interesting metal, especially; since it is never found in it's pure form and is basically a black sand prior to processing. To me it is pretty amazing that we even have titanium as a metal now and it was truly a major feat of engineering to get the process for refining titanium figured out.
I used to carry a leather wallet around, but it was pretty bulky and uncomfortable to have in my pocket all the time. I decided to make a money clip out of titanium, since it is very springy and will not fatigue and break over time like steel will. Titanium also allows the money clip to hold more and still spring back to its original form allowing me to hold my bills and credit cards along with my drivers license! The money clip worked very well for me and my friends liked it and they bought some.
I decided to try and sell them online with a very basic website and using Paypal to accept payments. I tried some advertising with Google Adwords to get traffic to the site and happily people purchased the titanium money clips and there were repeat buyers who were buying them for their friends. This inspired me to keep selling them and to not only improve on the design, but to add in different variations to suit different tastes. Of course sales were very few at first, but I stuck it out and it has paid off in the long run.
Your site looks very professional. Did you design it yourself or hire somebody?
The current website is designed by a very capable website design company and represents A LOT of work over time by myself and the designers. It was very important to find a company who was very good to work and fast to respond to questions, etc.
Is this your first online business?
This is my first online business although it is the 4th website design. I have a lot of different ideas, but I'm trying to stay focused in order to really build the business and not get spread too thin.
How long have you been running this site? Do you have others?
This site has been running for about 5 years now and although I've had many other product ideas I'm sticking to this one for now. My other ideas would require new websites, so there will likely be more sites in the next year or two.
Is this your full-time job? How many hours a week does it take to maintain and run?
It's not a full time job and is run on 10 to 15 hours per week (with help), although the more time spent promoting the website the better the sales are, so I usually spend more time than that.
Do you dropship or do you hold your own inventory?
We manufacture our own money clips and hold lots of inventory, since everything is now made in batches for efficiency. This allows us to tightly control quality, delivery and all aspects of the business. I believe this is key to a strong business and quality products.
Can you give a range into the gross annual income of your website? (Ex. $1,000-$10000 or $10k-$50k or $50-$200k)
(declined to answer)
What has been the most difficult challenge in your venture?
The biggest challenge has been making people aware of the existence of titanium money clips and the benefits over traditional money clips and wallets.
What advice would you give to someone who wants to start a business selling consumer products online?
Do something you love to do because it will take passion to make your business a success and it is true that it doesn't really feel like work (well 90% of the time it doesn't!). You will also need to accept that it will take a long time to make money especially if you have a new product that people are not aware of. The money will come, but you will need patience and determination.
Any other tips?
Listen to your customers, since they are the ones who are putting/keeping you in business. I always try to be fair and reasonable because every satisfied customer is like a sales person out there and over time it is a powerful force working in your favor.
— end of interview —
Recap
I want to thank Dan for the interview. Here are the main take-aways for me:
Had an idea within personal sphere of expertise (mechanical engineering), and made a prototype.
Tried selling to friends first, then expanded.
Keeps trying to improve website.
Make product himself, and controls inventory directly.
Not a full time job.
Most time is now spent on marketing, not product development.
Now that I write this, I have some additional follow-up questions like what shopping cart backend software he uses. If you have some questions as well, please leave them in the comments and I'll try to get them answered if they aren't trade secrets. I haven't had a chance to try out the product myself yet, but be on the look out for an upcoming titanium money clip giveaway. 🙂
If you liked this entrepreneur interview, also check out this interview with Dennis of OneGreekStore, a custom apparel store for the college Greek community. Finally, if you're an entrepreneur with a unique story and would like to be interviewed here as well, please feel free to contact me.