Below is a chart taken from this WSJ article about employer-run 401(k) retirement plans and how the default settings have changed over the last decade: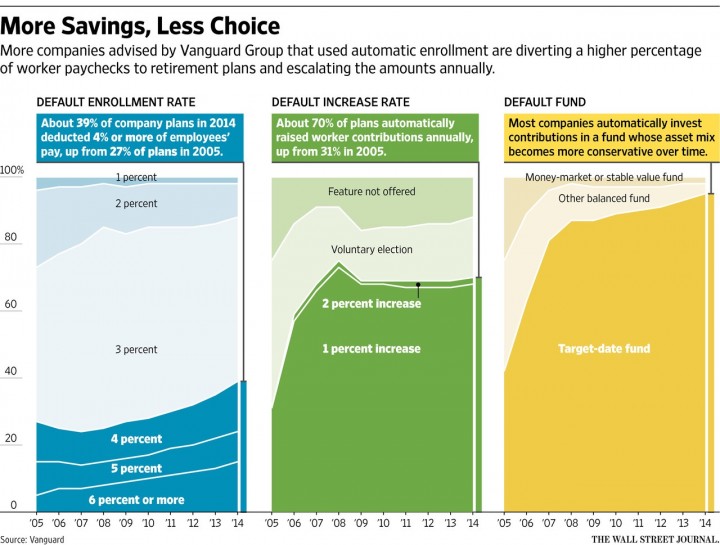 The trend: Employers are making you save more initially by default, making you save a little more every year by default, and putting it in a pre-mixed target-date fund of stocks and bonds. Employees can opt out of any of these things at any time. But they aren't.
Credit Suisse braced for complaints last year when it upped its initial automatic savings rate for new employees to 9% from 6%. It did so after years of experiencing lackluster interest from the firm's roughly 8,500 employees—specifically younger workers—in the U.S. when meeting to discuss increasing retirement savings, said Joseph Huber, chairman of the bank's pension-investment committee.

But Mr. Huber said the bank heard concerns from only two people, who weren't previously putting any money into their 401(k) plans. Credit Suisse also decided to automatically increase the default rate by 1% a year until an employee reaches 15%. It doesn't match contributions up to the highest rate, although it contributes $3,000 to $10,000 for each employee annually.

"It's companies' biggest fear and it was radio silence," he said.
Well, perhaps I shouldn't be pointing this out because the current inaction may be a good thing. The only problem is that nearly half of US workers don't have an company-sponsored retirement plan. The bigger your company, the more likely you have one as an option.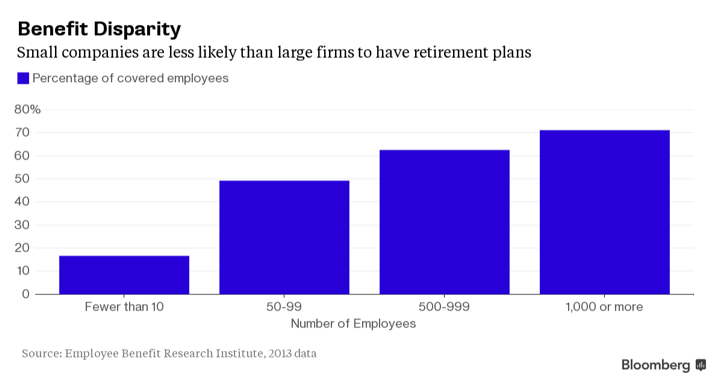 The takeaway? Try using this behavioral psychology trick on yourself. Commit to saving more through automatic, recurring transfers. Use a savings account or an IRA if you don't have a 401(k) match. Set the amount such that it hurts a bit. You can always change it back later (but hopefully you won't need to).