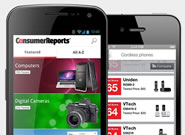 Updated October 2015. I'll try to keep this post updated with any current discount on Consumer Reports subscriptions. Send me a message if you have a tip.
Groupon has Consumer Reports digital edition for $15 a year (50% off). You can also pay $29.50 for 1-year of print + online. Not valid for current online or print members or renewal memberships. Limit 1 per person, may buy 3 additional as gifts. If you see this by 10/27/15 you can try code SCREAM3 for an additional 20% off. Otherwise just look for a banner with any current promo code and try to stack them.
Reader Ryan comments that you should also check you local library to see if you can get free online access to Consumer Reports articles.


I seem to always go in waves with Consumer Reports. I don't use them for a year, and then I find myself constantly checking out stroller reviews, appliances, used cars for a friend, etc.