I recently opened a savings account at E-LOAN to try out the new 5.50% APY that a few people kindly pointed out to me while I was gone. Here's a brief review of the opening process and my initial thoughts.
Basics
This is a new FDIC-insured online savings account, similar to Emigrant Direct, Capital One 360, and others. You need $5,000 to open the account, but after that there are no monthly fees. Per their rates page, they are currently paying 5.50% on all balances, so one won't need to keep $5,000 there forever. But you may need to keep at least $500 in there (see below).

One unique and important thing about this account is that you can only move money in and out via your single designated external account. That means no linking with other savings accounts like HSBC Direct, or paying your mortgage or credit card bills directly with this account. You can change your single external account later, but only 4 times in a year.
Opening Process Review
The opening process was very short and sweet, just how I like it.
1. You fill out the account application, pretty standard stuff. Two things to note:
(i) Be sure to notice the privacy opt-out form that you have to click on and open a extra window to get to. Hopefully by filling this out I'll avoid being bombarded by mortgage refinance requests from E-Loan's other divisions.
(ii) Unless it applies to you, do not tick the 'I am subject to backup withholding' box at the end. It's right next to the 'I agree to the Terms and Conditions' box and may trip some people up.
2. You will have to open with at least $5,000, so you'll need the routing and account number of your chosen external account. It will be withdrawn electronically via ACH. You cannot make deposits by mail or by wire, ever.
3. After your application is sent, you will get an e-mail with further instructions. You can actually log into your account already, but you can't do any account changes until after verification.
4. About 1-3 business days later (two for me), the money should be withdrawn from your funding account and show up in your E-Loan account on the same day. At the same time there will be two small deposits and two identical small withdrawals. So if you're using a savings account that limits withdrawals to six per month, be careful.
5. You log back into the E-Loan site and verify the amounts, and that's it. Not bad at all. You don't have to wait for letters via snail mail or anything. Two business days total for me from application to full access.
Initial Thoughts
The interface is very clean and simple. Here is a screenshot of my Account Summary page: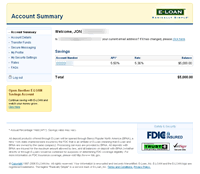 Transferring funds was pretty straightforward, if you do it early enough the transfer went through the next business day for me. You need to answer a security question every time you do a transfer.
Additional Info
– Only online statements and only one per quarter, no paper statements.
– Like other savings accounts, only 6 withdrawals allowed per month. Unlimited deposits okay.
– Interest compounded daily and credited monthly.
– Bankrate 3-star Safe & Sound Rating "Performing" for Banco Popular North America (BPNA), the actual bank behind E-Loan.
– I did not get a hard credit pull, and there are no reports of any.
– From their Term and Conditions:
ACCOUNT CLOSURE – You will be expected to maintain a balance of at least $500.00 in your Savings Account. If your balance is less than $500.00 for ninety (90) calendar days or more during any 12-month period, your Account may be closed. If we decide to close your Account, we will either return any funds in that Account (along with any accrued interest) to your External Account or send to you a check for that total amount.
INTEREST ON DEPOSITS – Deposits by Electronic Funds Transfer (EFT) that are received by 12:00 p.m. Pacific Time (PT) on a business day, excluding Federal Reserve Bank holidays, generally accrue interest from the day the EFT is received. Deposits by EFT received after 12:00 p.m. PT generally begin to earn interest from the next business day. For example, interest will generally begin to accrue from the following Monday for Friday deposits received after 12:00 p.m. PT.
Updates
– E-Loan Savings appears to have had some problems with duplicate transfers causing overdrafts. Please see comments below for details. I have not experienced these but I have also not done many transfers. E-Loan has offered to pay for all overdraft fees, please ask them if they have not offered this to you.
– Now paying 5.25% APY