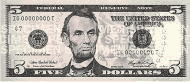 I can't stop the stock market from tumbling any further, but here's a quick roundup of promotions by companies willing to pay you to try out their services. None of these listed require even a credit check. Additional information can be found through the links provided.
LendingClub $25 Bonus. Just sign up as a peer-to-peer lender and you'll get $25 in your account, just link your bank account. If you deposit $1,000 you'll get $50. More details here.
RevolutionMoneyExchange $25 Bonus. Also no initial deposit required to try this money-transfer service. More details here.
TextPayMe $5 Bonus. No deposit required. You can pay people via text message with this service. More details here.
eBates $10 Bonus. eBates offers rebates on online store purchases. After your first purchase of any amount, you'll get a $10 bonus. Or you can simply sign-up for a free trial of Netflix through eBates and get another $18. Just remember to cancel in time. More details here.
Prosper $25 Bonus. Also a peer-to-peer lender. You'll need to make a loan of $50 to receive your $25. More details here.
Capital One 360 $25 Bonus. One of the earliest online-only savings accounts, Capital One 360 will pay you $25 immediately if your initial deposit is at least $250.
I have gotten all of the bonuses above successfully except for the Prosper one, as I had signed up before the promotion started. I have also gotten several $100 bonuses from these credit cards, although applying will require a credit check.