I received another reader e-mail whose question was very similar to this worried young investor's question from back in November. Essentially they still wanted to know my opinion in this bleak market and if there is something they should do. I can't blame them for asking. Although I was in the buy-and-hold camp, here's the chart for the Vanguard 2050 Retirement Fund (VFIFX) from November 2007 until now: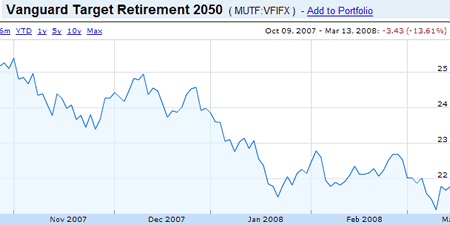 In addition to my suggestions in that post, I also wanted to add that I can empathize with their situation. My very first Roth IRA was only partially funded with $1,000 because that's all the money I could spare at the time. I then proceeded to buy shares of Janus Mercury, recommended by various publications and rated 5 out of 5 stars by Morningstar at the time. How could I lose? This was around 2001-2002. It tanked. Although I didn't sell that year mainly because I didn't know what else to buy, the next year I was certainly not interested in making any more IRA contributions!
Looking back, I would say starting out involves a good dose of luck. Let's say 60% of new investors are up during their first year. For these lucky folks, they have a bit of "house money" to cushion any future losses. They have a positive vibe, and are more likely to keep their portfolios constant and make a habit of contributing regularly.
But what about the other theoretical 40% of new investors? They start losing money in their very first year. The media is now showing nonstop stories of foreclosures, rising inflation, weak dollars, poor job reports. Beginning investors are not used these drops. In their eyes, it took them months if not years to save up enough money in a nice, safe bank account before finally opening a Roth IRA. Then in a few months nearly $1,000 (20%) of it might have already disappeared! Worst case, they might be turned off from stocks for years. I'm no expert, so I can only reiterate the importance of time horizon when investing.
I'd like to hear how other people remember their very first year investing. Was it a good year for you? Bad? How did you react?