The WSJ has a nice introduction to dynamic withdrawal methods and managing your portfolio in retirement. They outline a few of the more popular variations – Adjusted 4%, Floor-and-Ceiling, and Guardrail. I like learning about dynamic strategies because I think they are more applicable to the real world and involve good ole' common sense. When my portfolio is crashing and my dividends are getting cut, I think I'll be fine with pulling back a bit as everyone else will likely be doing the same. If your investments have a good run and your income stream grows, and then you can spend a bit more.
Here's an infographic they put together to help visualize one type of dynamic strategy called "floor-to-ceiling" (click to enlarge):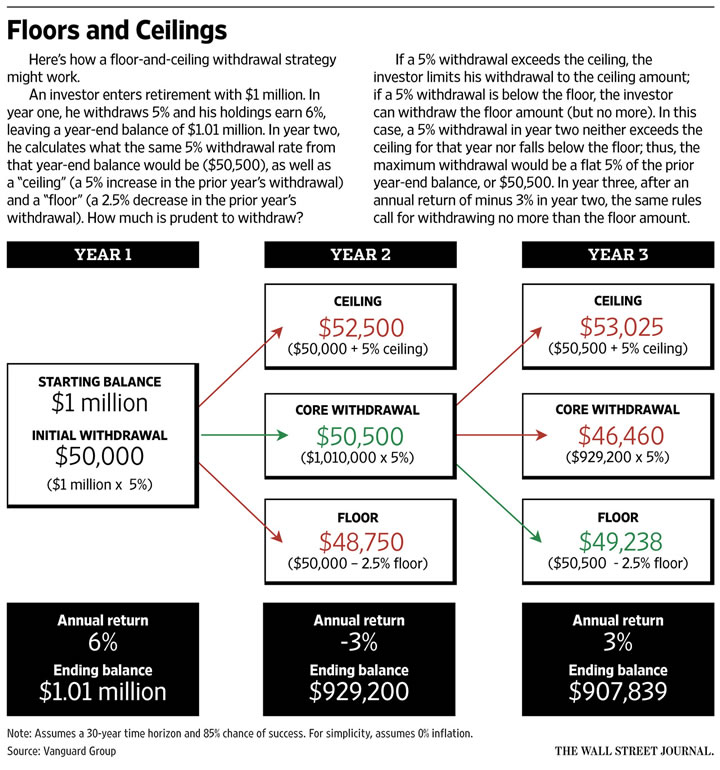 Vanguard's Managed Payout Funds are also designed to aid in portfolio withdrawals, using dynamic methods but adding in a smoothing component so that your income won't swing as wildly from year-to-year. I don't plan to buy those funds, but I might use their smoothing idea.
I am a conservative investor, so I don't know about using dynamic withdrawals to justify a 5% average withdrawal strategy, though. It would just make 4% for 30 years less scary. In my case, I'm considering 3% dynamic for 50 years.