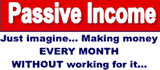 I hear the term 'passive income' thrown around a lot. But what does it really mean? Is anything that you earn outside your day job considered passive income? Let's look at some popular things that are associated with the term.
Dividend Income From Stocks
First, one must come up with money to buy a share of a dividend-yielding stock. That probably took some work. But what's so special about a dividend? There are two components of return from stocks – share appreciation and dividends. All other things held equal, when a stock gives off a dividend, the share price drops commensurately. For example, if the share price was $100 and it gave off a $1 dividend, the share price would then be $99. So it's not like the $1 came out of thin air.
If you had 100 shares of a $1 stock, you could simply sell $1 and get $1 of cash and $99 of stock as well. In fact, sometime dividends are simply paid in the form of more shares of stock. The way I see it, if you think dividends are passive income, then you should treat any increase in share price as passive income as well. Coupon payments from bonds and interest from savings accounts would be in the same group.
I personally prefer to simply call all these things investment income and keep it separate, as learning about investments is more of a requirement nowadays, as opposed to an optional entrepreneurial venture like the other activities below.
Creative Works – Songs, Books, Patents
Let's say you compose a song, or write a book. Every time someone plays your song, or buys your book, you will get a small fee. But what if you spent 1,000 hours writing that book, and you only earn a $100 each year from royalties? Is that really passive? Sounds like a lot of research and hard work to me. On the other hand, the Beatles will be making millions for their great-great-great grandchildren. When does it cross over to becoming passive?
Take blogging for example. You spend hours writing, reading, commenting, dealing with spam. Divide your advertising revenue by the hours spent, and if you're really lucky, you'll be above minimum wage. And then there still ain't anything passive about it!
Real Estate Rental Property, Vending Machines, Car Washes
Another group with similar characteristics… You put up a relatively large sum of money upfront to pay for the rental property, vending machines, or car wash property and equipment, and after that you make money from rent, selling soda/snacks, and water/soap, respectively. But there is still work to be done. If you don't manage your properties, restock your supplies, or maintain your equipment, things start falling apart fast. Even if you do all these things, there will always be the occasional breakdown or emergency to give you headaches.
My Alternative Definition For Passive Income
Now, I don't doubt that many people make a ton of money with things like rental properties and writing books, with a relatively small amount of ongoing work. I'm still definitely interested in pursuing such activities! It should be obvious that I love making extra money on the side as much as anybody. But I don't call anything I do passive income. I can't really think of anything truly passive, besides maybe winning the lottery. So I suppose "passive" really just means "less work than other stuff".
Accordingly, here's my two requirements for me to consider labeling an activity as "passive income":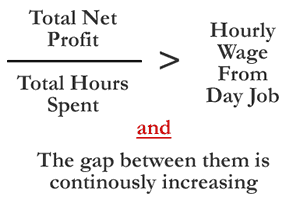 If you only satisfy the top one, then it's just a really well-paying job. If only satisfy the bottom one, you wouldn't be using your time efficiently, which wouldn't make it very passive at all. Would you agree?