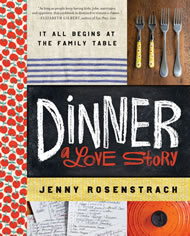 Every since completing the Dinner Boot Camp over 8 weeks ago, we have cooked dinner at home at least 5 times every single week (heating up frozen lasagna doesn't count). Two months! That has never happened before… The weeklong boot camp (see if still online) was done by Jenny Rosenstrach to promote her new book, but I always like starting at the beginning so I read her first book Dinner: A Love Story: It all begins at the family table. Both books were inspired by her popular blog at DinnerALoveStory.com.
The book itself is probably 50% non-fiction story about her journey and 50% recipes. The author felt strongly about the importance of family dinners and kept a journal of every single dinner she cooked for several years. I think the two excerpts below do a good job of encapsulating her views.
It's for mothers and fathers—working, staying home, single, divorced, any kind—who crave more quality time with their children and have a sneaking suspicion that the answer may lie in the ritual of family dinner, in the ritual of sitting down together at the end of the day to slow down and listen to each other. […]

…no matter how different and harried family dinner looked during this new baby phase of our lives, it still served its main purpose: It was our day's deadline. Even when we were in a house in the suburbs with two kids under two and the evening hours between six o'clock and eight thirty felt like we were trapped in a high-speed game of playground dodge-ball, even when the girls got a little older and we'd try and fail and try and fail to get them to eat the same dinner as us at the same time, even though each of us would have our share of late nights at the office, and even though we'd regress to our frozen veggie burger nights more often than I care to admit, the ritual of sitting down together at the end of the day remained our default mode, our time to be together. And a decade later, dinner has happened regularly enough for me to feel I've stayed true to my vow.
It helped that we identified with her situation as we also have two kids under two and often felt like the time between 6 and 8 pm every night was like running the last few miles of a marathon. Most recipes in the book are for a family of four. However, having two tiny ones meant we were really just cooking for two adults. So the book works equally well for couples without kids (if you don't mind eating leftovers for lunch).
Throughout the book, you can definitely tell that she has professional experience as a magazine writer and editor. The writing is approachable and she uses a friendly, self-deprecating tone that doesn't scare you off.
The best part about her recipes also comes from her editing skill. These are recipes explicitly honed for the tired, busy, working home cook. The recipes avoid being one-dimensional with simple ingredients like vinegar to make it salty and acidic, or honey to make things sweet and salty. There will usually be a texture component (crunchy, crusty, chewy) and at least one fresh herb. There are no added ingredients just for showing off, but if you leave something out you'll miss it. As Albert Einstein is credited with saying:
Everything should be made as simple as possible, but not simpler.
There are many recipes in the book that are not on the blog. These are recipes from this book that I actually made and I could find links for. Of course some recipes we liked better than others, but that is mostly due to personal taste and none of them were bombs.
Bottom line: If you can't spend all day in the kitchen but the idea of making minimally-processed meals appeals to you, this book includes both a nice personal story and many practical recipes for quick after-work meals. Recipe books are often about style, and I really connected with her style and taste. I would say at least half my cooking for the last 8 weeks has come from this book or the blog. If this speaks to you, I encourage you to try out the Dinner Boot Camp or the sample recipes above.