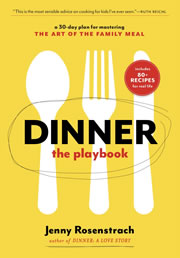 The New York Times Motherlode blog is running Dinner: The Boot Camp next week with Jenny Rosenstrach, author of the new book Dinner: The Playbook "A 30-Day Plan for Mastering the Art of the Family Meal".
Here is the free shopping list and weekly dinner meal plan [pdf] for Sunday night 9/7 through Thursday night 9/12 (you get to go out on Friday). Just shop once on Saturday/Sunday, and the meals are meant to be easy-to-make and tasty. Check in the day after each meal on the Motherlode blog to share experiences.
Inspired by Pollan's Omnivore's Dilemma, we've been trying to shift our eating our habits to the theory that as long as you make it yourself from scratch, it's healthy enough and cheap enough. Think of "processing" as the middleman that shaves off quality (and replaces with salt and sugar) while increasing cost (have to make a profit, right?). Cut out the middleman.
Our overall goal is to cook ourselves using raw materials 5 days a week, eat "food-in-a-box" dinner once a week, and eat out (or take-out) from a restaurant once per week.