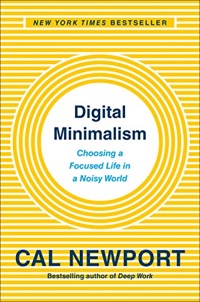 I initially stopped reading the NY Times bestseller Digital Minimalism: Choosing a Focused Life in a Noisy World by Cal Newport midway through because it seemed to target a problem that I did not have – I don't spend much time on social media and deliberately avoid the front page news cycle. However, I'm glad that I went back as it contained many useful parallels with time management and financial independence.
Here is my favorite definition of digital minimalism:
A philosophy of technology use in which you focus your online time on a small number of carefully selected and optimized activities that strongly support things you value, and then happily miss out on everything else.
Read that quote again but remove "of technology" and "online", and isn't that just a good philosophy for life in general?
This thought process also aligns with the book Four Thousand Weeks: Time Management for Mortals:
A truly practical approach to making the best use of time demands that we stop trying to deny the undeniable, acknowledging not merely that we might not get around to everything but that we definitely never will. That we're guaranteed to have to abandon certain ambitions, disappoint certain people and drop certain balls in order to make time for doing a few things that count.
I also appreciated this description of the digital maximalist:
Notice, this minimalist philosophy contrasts starkly with the maximalist philosophy that most people deploy by default—a mind-set in which any potential for benefit is enough to start using a technology that catches your attention. A maximalist is very uncomfortable with the idea that anyone might miss out on something that's the least bit interesting or valuable.

Put another way: minimalists don't mind missing out on small things; what worries them much more is diminishing the large things they already know for sure make a good life good.
This comparison of minimalism vs. maximalism was the most useful part of the book for me. You can apply it to everything – your monthly spending, your collection of clothes/gadgets/stuff, the food you consume, how you spend your time every day. Minimalism is about where to draw the line, and how that line is probably closer to "less" than you think.
Happily missing out. I am working to identify my maximalist tendencies, and I like the phrase "happily missing out" as the opposite of FOMO. Instead of trying to moderate your use on something that isn't clearly awesome, it's easier to simply cut it out completely. Delete the app from your phone. Cancel the subscription. Don't let the junk food enter you home. End the toxic relationship. Get rid of the widget that didn't work out (even if it was expensive). Sell the regrettable investment (even at a loss). After the initial shock, I usually end up saying "Why didn't I do that earlier?"
If you are interested in changing your tech habits, here's the basic actionable strategy of the book:
Perform a 30-day "Digital Declutter" where you completely stop using social media and other optional digital apps.
During this reset, explore and rediscover activities and behaviors that you find satisfying and meaningful. Socialize in-person, spend time alone without your phone, build something with your hands.
After 30 days, reintroduce the apps carefully into your life one-by-one. They should only return if they are the best way to help you achieve something you deeply value.
Even this could have parallels to personal finance:
Perform a 30-day "Expense Fast" where you stop every optional expense.
Experiment by replacing your expenses with alternatives. Think of ways to eat everything edible that is already in your house. Realize that you have 10 different subscriptions and you don't need them all. Walk outside instead of the gym. Ask someone to walk with you. Talk with an old friend on the phone. Don't buy a single piece of new clothing.
After 30 days, reintroduce each expense life one-by-one. Some things you may realize should be a high priority. That's good. Some things you may realize are low priority. Happily spend your money on the high priority items, and happily miss out on the rest.