Back in early February 2015, I wrote about and started participating in a weight loss challenge at DietBet.com. As the picture above indicates, a group of folks (strangers or friends) agree on a weight loss goal, put money into a community pot, and the winners split the pot (after fees). It's part gambling for profit, part community support group, and part behavioral modification nudge.
Knowing myself, I definitely hate losing money if I can at all help it. So far, it's working! The idea that I would lose hundreds of dollars definitely kept me on track during times of weakness and doubt. (In addition to DietBet, I also did a simultaneous bet at similar site HealthyWager to up the total ante.)
Anyhow, since this is a money blog I figured I'd share some details about my financial results so far on DietBet. You pick from a list of open "games" with a goal of either losing 4% of your body weight in 4 weeks, or 10% in 6 months. I chose the 10% goal and joined The Transformer (Feb 5 – Aug 4), mostly because there were over 1,000 participants and I figured there had to be some people that would drop out. I know, it's selfish, but it's like poker – all your profits come from the losers! Indeed, DietBet uses the poker rake business model where they take a cut of the pot and thus never have to risk their own money.
Your weight is verified using a smartphone app (or website) that uploads two pictures each month: one with your feet on a digital scale, and another of your entire (lightly-clothed) body on the same scale. You are given a special keyword to ensure that the weigh-in is done during a 48-hour window.
I put up $25 a month for 6 months. I was offered one month free ($25 discount) if I paid $125 upfront, but since this is all about the behavioral component for me, I wanted the monthly charge to show up on my credit card bill. Players who have chosen to place their bets on a monthly basis may drop out at any time and avoid being charged for future, unplayed rounds.
There is one round per month; Rounds 1 to 6. Half of the total money bet is put towards Round 1 through 5. That is $25 x 6 / 2 = $75, split across 5 rounds is $15 per round. The other half is put toward the final weigh-in round. So $75 is bet on Round 6.
Four rounds have been completed so far, and here are my winnings. Here's the graphic from my profile page that explains things pretty well: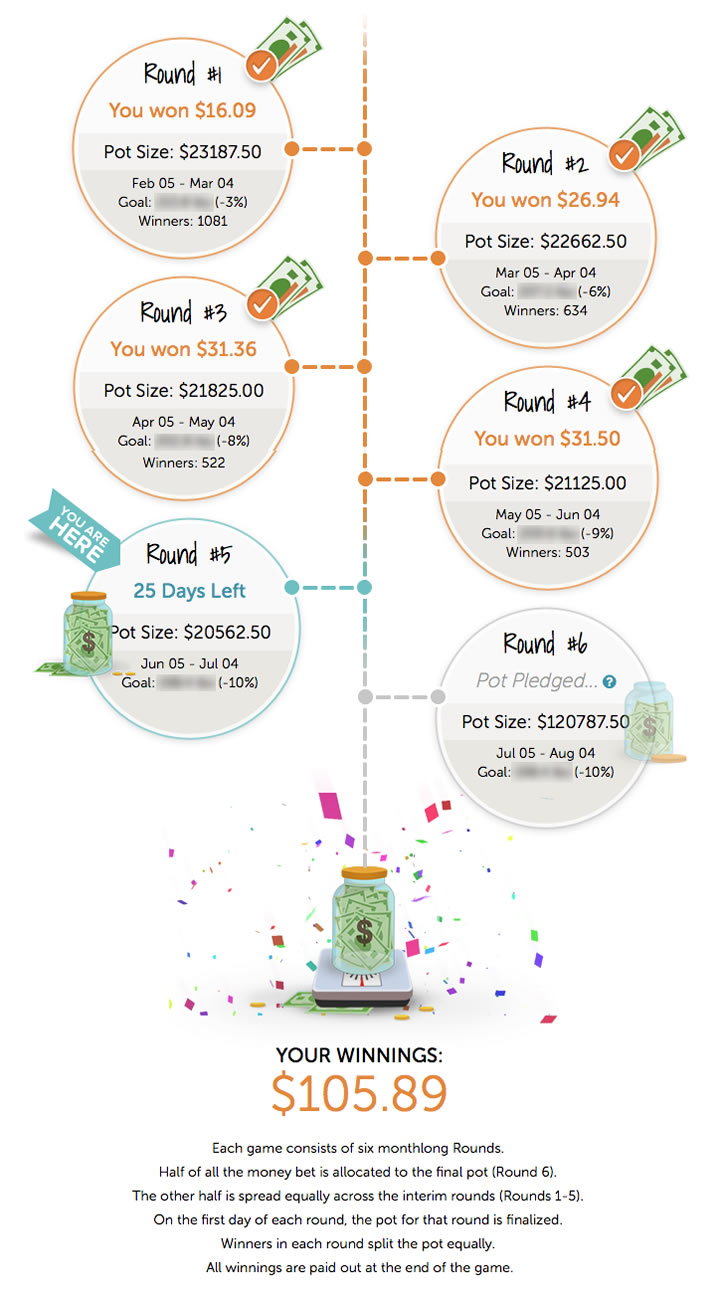 Round 1 Breakdown: $16.09 (7% ROI on $15 bet)
Round 2 Breakdown: $26.94 (80% ROI)
Round 3 Breakdown: $31.36 (109% ROI)
Round 4 Breakdown: $31.50 (110% ROI)
According to their documentation, the average "win" is 50% to 100% of your contribution. My personal results appear to be in line with these numbers. Based on the recent trend, I am not expecting the the future payouts to get much better than about 110% as these are probably the serious participants that will finish successfully. Additional people may also "catch up" and make that final Round 6 goal.
Dietbet does take a cut of the gross pot before distribution, between 10% to 25%. For my small monthly bet of under $100 a month, they will take a significant 25% cut. While I definitely think they should take a fee for providing this helpful service, I am conflicted as to what should be a "reasonable" fee. Keep in mind that taking 25% of the gross pot means that they usually take over 50% of your net winnings! (You are guaranteed never to lose money if you win, which otherwise technically could happen if enough people win.)
If I were to assume that I reach all my future weight-loss goals and a future 100% pot ROI, at the end of 6 months, I will have put in $150 and won $285.89 gross (135.89 in gross profit). After the 25% fee, I will take in $214.42 for a net profit of $64.42. That's a projected 43% ROI on my $150 total bet. Hmm, that's not too shabby. Perhaps I should have bet more money in retrospect. 🙂
But if I am honest, the fact that the last time I was this weight was about 15 years ago in college, THAT makes me happier than even winning a hundred bucks. In that very important aspect, I think DietBet has a great idea going. If I lost 9% of my total body weight, I'd still probably be okay with everything. There is also a supportive community aspect where people both commiserate and cheer each other on (which I did not actively participate in… not my thing).
You can read through all the Transformer rules here and how they discourage cheating and such. I'll do a more complete final review once my 6 months is up.