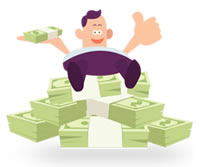 A few well-publicized academic studies have shown that financial incentives can be very effective in helping people lose weight. In order to combine the carrot and the stick, there are two websites now where you can bet on your weight loss. If you lose enough, you get paid. If you don't meet your weight loss goal, you'll lose the money you committed.
I tried both and here are links to my reviews of each site:
You can place a bet as an individual, or join a team challenge.
With the individual bet (Healthy Wager), you tell them your body details, how much you want to bet, how much you want to lose, and they'll calculate what prize to offer you. For me, if I bet $100 a month and lose 10% of my body weight within 9 months, I would get $1,000 ($100 prize plus my $900 back). 11% potential return combined with the risk of losing it all, I'm not sure what I think about that.
The $10,000 Team Challenge is a competition between teams of 5 people during preset 12-week intervals, with the top prize being $10,000. The entry fee is $25/month per person for three months ($75 total).
The new Jackpot Team Challenge is a competition between teams of 5-9 people to lose 6% of their body weight. Each participant contributes $33 per month for 3 months ($99 total) into the "pot". Teams that collectively average a 6% weight loss in a given contest will split the total Jackpot with any other winning teams. Healthywage does take a 25% cut of the pot first.
No smartphone apps available.
Everyone has to join a group. Start your own or join a friend's or stranger's group.
Everyone puts money into the pot for that group. Your goal is either to lose 4% of your body weight in 4 weeks, or 10% in 6 months. All the winners in that group split the jackpot (basically your money back plus splitting the losers' bets).
The average "win" is 50% to 100% of your contribution (i.e. put in $30, win $45 to $60 back). Dietbet does take a cut of the pot before distribution, between 10% to 25%. If everyone "wins", their cut will be reduced so that nobody will lose money on the bet.
Available as both an Android and iPhone app.
With both sites, you can verify your weight at home using a scale and a smartphone camera. With HealthyWage, you can also go to visit a fitness or medical professional (health club worker, doctor's office).