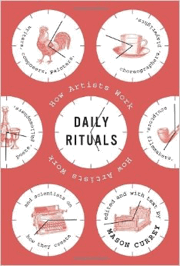 I've always liked this quote commonly attributed to Aristotle (while the specific wording was probably paraphrased by Will Durant):
We are what we repeatedly do. Excellence then is not an act but a habit.
Did you ever wonder what the average day was like for Mozart, Beethoven, Benjamin Franklin, Ernest Hemingway, Jane Austen, Mark Twain, Albert Einstein, or Maya Angelou? Daily Rituals: How Artists Work by Mason Currey evolved from the Daily Routines blog and includes tightly-edited profiles of 161 notable individuals including writers, philosophers, composers, painters, mathematicians, and scientists.
If you were hoping to learn some secret "life hacks" from this book, you'll probably be disappointed. I didn't find anything that fit that description. In fact, you might actually be disappointed at how ordinary their days were. The great human creations of the world didn't just spring fully-formed from their heads, at times it took several years of daily effort to create them. "A high level of achievement is often an accretion of mundane acts."
Instead, all you can really do is take away what fits with your own quirks and tendencies. Here's what I felt was most applicable to my own life:
Figure out what part of the day is the most productive for you, and then zealously guard that time. Make sure that your environment is ideal for productivity during that precious period each day. Some people have detached studios, some have "Do Not Disturb" signs. I have noise-cancelling headphones.
Some people are night owls. Some people work solely in the mornings, from dawn to noon. Many people switched from being night owls to working in the mornings, often after having kids. I have experienced this transition as well.
Don't forget to make time for rest and relaxation. Some visited cafes or bars. Many of the artists took long, daily walks outside. This follows the current trend of mindfulness and meditation to counter the constant electronic noise.
Many artists used some sort of drug each day… or multiple doses… or multiple drugs. This includes caffeine, alcohol, tobacco, and amphetamines (many of which were legal for a long time). This is not a recommendation, just an observation. Well, at least it makes me feel better about my recently developed coffee habit.
Some only created when they felt inspired, but they would still have a routine to encourage creativity. They might talk to specific people, visit certain places, or take a certain drug. Many could afford to wait around for inspiration because they had the financial means and their spouse or staff cooked, cleaned, and watched the children. Others fit in their work whenever they could, in between work and household tasks.
Others forced themselves to sit down every day and had a daily quota in mind. Some people do better when they treat it like a "normal" job. They get dressed, they go to an office, and they do their work. Maya Angelou rents out a cheap hotel room every day she writes. Stephen King has a daily quota of 2,000 words.
I'll end with a few highlighted excerpts that I want to remember. I already mentioned how William James espoused the power of automation in the 1800s. The book also included this snapshot of Benjamin Franklin's daily schedule. Finally, I enjoyed this excerpt about author Anne Rice (b. 1941):
For her first novel, Interview with the Vampire, Rice wrote all night and slept during the day. "I just found it the time when I could concentrate and think the best," she says. "I needed to be alone in the still of the night, without the phone, without friends calling me, with my husband sound asleep. I needed that utter freedom." But when her son was born in 1978, Rice made "the big switch" to daytime writing and has continued to work that way for most of her career. […] "What you have to do is clear all distraction. That's the bottom line."
This book mostly included artists of one type or another, but I think a good routine can apply to all part of life. I don't see that much difference between writing a book and creating a new small business that sells handmade items on a custom website (or really anything where you work for yourself). You are still making something new, and you should create the best environment in which to do so.