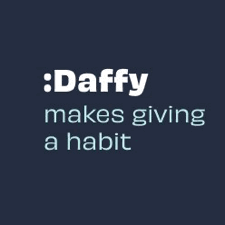 A donor-advised fund (DAF) helps you manage the timing of your charitable giving while also maximizing your tax benefits (allowing you to give more). You get the tax break at the time of contribution, which means you might give more when your income and tax rates are higher.
DAFs also let you contribute things like appreciated stock shares and appreciated cryptocurrency and avoid the taxes on unrealized capital gains. Here are some examples of the potential tax advantages of donating appreciated stock. Your contributions can then be invested to grow a tax-deferred manner until you decide to make a grant to the charities of your choice.
Fidelity, Vanguard, and Schwab all have donor-advised funds that can accept such donations, but they both charge an administrative fee of 0.60% of assets (usually with $100 minimum). If you put in the minimum $25,000 that Vanguard requires, that works out to $150 a year. (Fidelity and Schwab have no minimum contribution requirement.)
Daffy is a new DAF startup that starts at only $3 a month, or a flat $36 a year regardless of asset size. However, upon closer inspection, you have to upgrade to their $20 a month "Benefactor" tier to donate appreciated stock or cryptocurrency.
Here are Daffy's minimum contribution requirements:
At sign-up, you can commit to the Daffy Pledge or make a minimum one-time contribution of $100. For the Daffy Pledge, the minimum contribution is either $10 per week or $25 per month. The minimum stock contribution is $1,000 and the minimum crypto contribution is .001 BTC (10,000 Satoshis).

We require Daffy members to make at least one donation recommendation of at least $25 per year.

Members may recommend an unlimited number of donations in any given month. The minimum donation recommendation is $20.
At the base $3 a month tier, you can still invest in one of 9 preset portfolios that include standard, ESG, and crypto focuses. Their primary pitch appears to be one of convenience: Simply decided how much you want to give, and Daffy will help make the rest a little easier. Set up a regular monthly donation via credit card and Daffy will cover the transaction fees. Now you don't need to keep a stack of receipts. You can also give more anonymously without ending up on a bunch of mailing lists.
I've had a Fidelity Charitable DAF for a couple years now, and it has been a good experience even though I am a small fry customer. I primarily wanted to be able to donate appreciated assets occasionally and then give most of it away. I don't maintain an exceptionally large balance, so the fees incurred aren't very high (currently the $100 a year minimum). At $3 a month, I was hoping Daffy would save me some fees, but it would actually cost me more at the $20 a month tier since I donate appreciated stocks. Perhaps you can downgrade and/or upgrade only during the times when you need the extra features.
If you don't plan on donated appreciated assets, then Daffy is the lowest-cost DAF that I am aware of that lets you manage the timing of your charitable contributions and invest it tax-free until you decide to make a grant.