While perusing through old magazines in the dentists office, I came across an ad for annuity with the usual headline "Get a monthly income check GUARANTEED for life". I took a picture of the ad, the payout rates are below: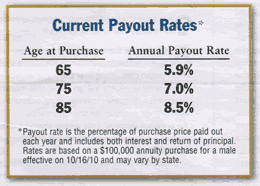 The specific product is a fixed immediate annuity where you pay them a lump sum and received regular monthly payments until you die. It is called the AARP Lifetime Income Program (guaranteed by New York Life and only endorsed by the AARP). There are two options to protect you in case of an early death – either a "cash refund" or "20-year guarantee" feature:
"Cash Refund": if you die before your total payments equal your annuity purchase price, your beneficiary will be paid the difference.
"20 Year Guarantee": if you die before 20 years has passed, your beneficiary will receive the remaining monthly payments during the 20-year guarantee period.
DIY Early Retirement Pension?
Since my wife and I don't have any pensions to look forward to, one way to create our own pension is to buy a fixed immediate annuity. I used their quote calculator to see what I could get right now if I was 50 years old and with the 20-year minimum payout.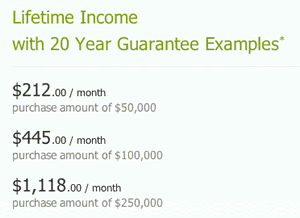 So with a lump sum of $100,000, I could get $445 a month for life. That works out to a 5.34% payout rate.
The "guarantee" for annuities are only good as long as the issuing insurance company stays in business, but many states have a guaranty association that provides an additional backstop. For example, in Florida the total annuity cash surrender protection per owner per member company is $100,000, and the maximum aggregate benefit for all insurance lines is $300,000. I am not a lawyer, but from what I read that means I can buy three $100,000 annuity policies from three different insurance companies, and have it all backed by the state if any or all of those insurers goes bust.
That means if we were both 50 years old right now (which we aren't), both my wife and I could put $300,000 across different insurers and both get about $1,300 a month in lifetime that is about as safe as one can make it. Together, that's a cap of $2,600 a month. I don't want to annuitize our entire portfolio, but I imagine that it would relieve a lot of my stress if our basic needs could be met with a monthly annuity payment that doesn't depend on the performance of the stock market.
Now, these numbers above do not adjust for inflation, and so will buy less and less goods each year. This is important, especially if I am going to be buying so early at age 50. Inflation-adjusted annuities are available but the payouts are significantly lower and I feel the competition is not as good. One alternative is to start small and ladder additional annuities as you age.
There are many of these types of annuities available out there. I'm not recommending this one in particular, I was just using it as a handy example for some rough number calculations. A good comparison site is ImmediateAnnuities.com.