In a recent Money magazine article about ETF Investing, there is a nice illustration of a simple and diversified portfolio made entirely of ETFs by author/money manager Rick Ferri: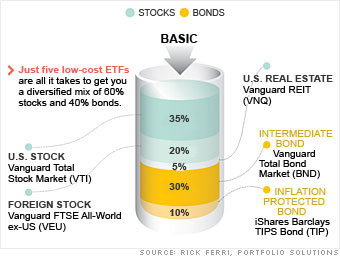 Put simply, ETFs are essentially mutual funds that trade like stocks. (Note the ticker symbols included above.) Hence the name Exchange Traded Funds! You tend to get lower annual expense ratios than mutual funds, but you must also pay a stock commission on each and every trade. They also tend be better in taxable accounts because they often don't shed as many capital gains. Since there are now a million types of ETFs out there, it's good to remind everyone about the great portfolio building blocks out there.
If you trade large amounts at a time or have cheap enough trades, then ETFs can be a good option. Otherwise, even $10 a trade can really add up. If you have $25,000 of total stock value, you can move your account to Zecco Trading for 10 free trades per month, or to WellsTrade (by Wells Fargo) for 100 free trades per year (special PMA checking account required).
Done this way, the total cost of this portfolio would be under $20 a year for every $10,000 invested. Less money in a broker's or manager's pocket means more for you.
* Update: Here are 8 more model portfolios that you can replicate with ETFs these days.