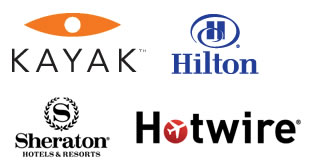 Whenever I'm not traveling on the company dime, I usually run through a checklist to find the lowest price on hotel stays. Let's say you're like me and need to find a room in New York City for a few nights, checking in August 30th. I'd like to stay somewhere near Times Square in Manhattan, close to all the sights and action. I'm also leaning towards something reliable and not bargain basement – this is NYC and I don't want a Hotel Carter experience involving bed bugs, roaches, and urine smells. (Note this for later: At their website, they charge $99 a night.)
1. Check the hotel's direct website.
If you have some favorite chains due to corporate agreements or loyalty points, then this narrows your search down and you can try and check directly with their website. For example, there is Hilton.com, IHG.com, and StarwoodHotels.com for Sheraton/Westin/W Hotels. Here are some quotes (all prices not including taxes):
Hilton Times Square, $195
Hilton New York, $169
W NY Times Square, $272
Westin NY Times Square, $232
Sheraton Manhattan Times Square, $189
Four Points Midtown, $157
This gives me a benchmark to work from. Another benefit here is that they usually have some form of "Best Rate Guarantee". Starwood will beat a competing vendor's price by either 10% or give you 2,000 Starpoints.
2. Try to use loyalty program points.
An extension of the above, at times it is better to redeem your points, or some combination of cash and points. For example, the Westin NY Times Square would only cost 12,000 Starpoints per night, or 48,000 points for 5 nights (avg. 9,600/night). Keep in mind the point redemption even covers taxes, which would turn the $232 listed above to $268 per night. Too bad I'm low on Starpoints after visiting Madrid.
You can earn Starpoints faster and get up to 25,000 bonus Starpoints with the Starwood co-branded American Express card.
3. Use the travel search engines. Expedia, Kayak, Hotels.com, etc.
You know the drill. Actually, you can search most of these all at once through Kayak.com. Sometimes one site like Expedia may have special rates for a block of rooms that aren't available on other sites.
From Kayak, I note that the prices for the Starwood and Hilton hotels were basically the same. After sorting by price, I see that the Holiday Inn NYC is slightly cheaper at $160/night + taxes. A bit farther away in Midtown East there is the DoubleTree Metropolitan at $149. Not too bad. Oh look, Hotel Carter is discounted at $67. Too bad it doesn't include the cost of burning your clothes afterwards!
4. Use opaque sites like Hotwire and Priceline.
Finally, there are what are called "opaque" travel sites, because you don't know the name of the hotel until you've paid for the non-refundable room. You must decide only based on the star quality rating and general neighborhood of the hotel, which means you can't look up reviews easily either. Priceline is done using a reverse auction format, while Hotwire just gives you the price.
On Hotwire, I find that I can get 2-star hotel (examples given are Comfort Inn, La Quinta, Days Inn) for $93+tax ($112 total) in a large and vague area that basically covers everything south of Central Park.
5. Using database sites to reverse engineer the hotel information. Sites like BiddingForTravel and BetterBidding gather information from successful purchasers to remove some of the mystery.
For example, what exactly might be a 3.5 star hotel in the Midtown area? Does Hotwire call the Westin Time Square 4 stars, or 3.5 stars, or 4.5 stars? What if Priceline disagrees? What one site calls Midtown West might be Midtown Central to another.
Well, here is a list of hotels in NYC that Hotwire and Priceline has sold rooms for, complete with star rating and neighborhood. From this list, the only 2* in Central Park listed is WooGo Lincoln Center. Of course this might not be the hotel you end up with, but it is a good possibility and you get a sense of quality (mixed reviews).
In addition, you can find a list of winning bids posted by users, and BetterBidding even has a calendar for easy searching. Here are the applicable ones for my situation:
Hotwire Winning Bids
4*, Central Park, Empire Hotel, $139
3.5*, Midtown Central, Sheraton Times Square, $119
3.5*, Midtown East, Millennium UN, $116
Priceline Winning Bids
4*, Midtown Central, Sheraton NY Towers, $125
4*, Midtown West, Sheraton NY Towers, $115, $110, $126
4*, Times Square, Westin TS, $169
Putting things together, if Hotwire is offering me a 3.5* hotel in Midtown Central on these dates, it is most likely be the Sheraton Times Square. Or, in the same price range, I could likely get the Sheraton NY Towers. After reading some reviews, I chose the Times Square location. The prices keep fluctuating, but when I was searching it was at $113. That's a pretty good price for a solid hotel.
To be the most aggressive, I would go onto Priceline and bid about 20% below the Hotwire price for a 3.5* hotel in the Times Square region, say $95. I don't want to bid too low, because each time I get rejected, I must change a search parameter (star rating, neighborhood) to bid again. Also, I run the risk of getting another 3.5* hotel that I don't like as much.
So I held my breath, used Hotwire… and got it. Whew! In the end, I got what I wanted at 40% off the "guaranteed" low price, $113 vs. $189 per night at the Sheraton Times Square.. Over few nights, that's hundreds of dollars in savings.
To think, if you did no research, you might end up with the Hotel Carter for $99/night! If you have tips to improve this process, please leave a comment below! I know I could try hostels or even couchsurfing and such, but that's not what I was looking for on this trip.