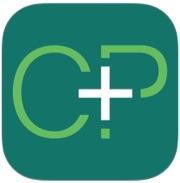 High-deductible health plans are still growing in popularity. While these can be a great way to save on your monthly premiums, it also means that when you do have to visit the emergency room, you get to tackle nearly the entire bill instead of a small co-pay. The problem is that most medical bills cannot be understood by mere mortals. Likely, the doctors and nurses themselves have no clue how that $6,344 bill for a broken arm got generated.
Right now there are honest people that just got their bill, but they are frantically doing internet research because they have no idea if their huge bill is correct or what is "reasonable". It would be nice for this problem not to exist, but until then I wanted to point out a service called CoPatient. They are made of health insurance company veterans and hire their own medical billers and coders.
You send them your unpaid medical bills, and they review it for free to determine if there are any errors or overcharges. They will send you a free estimate of what they think they can do for you. If you allow them to negotiate on your behalf, they work on a contingency basis and keep 35% of the actual savings. If they don't save you money, you pay nothing.

Here's an example patient flowchart (click to enlarge):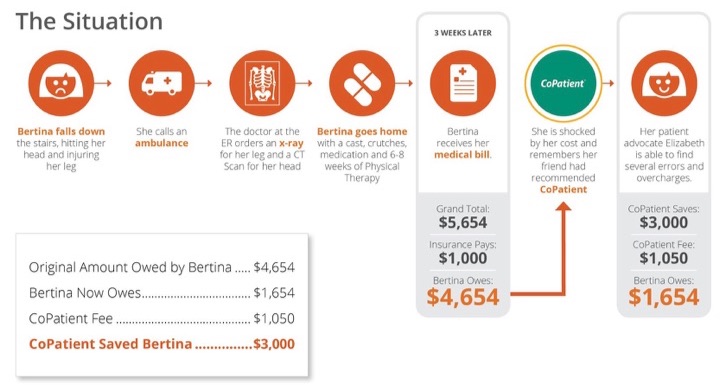 The legwork that the consumer needs to do is request a detailed, itemized bill from the hospital providers. Some tips from ABC News:
Ask what services are covered under your room and facility charges
Ask what treatments were provided
Identify the date and time of when you were admitted
Clarify medical terminology that is confusing
Specifically look for erroneous double charges, for mischarges, and for situations where a charge defies common sense (e.g., a $22 Q tip).
Here are some quick stats, taken from their website and marketing materials:
More than 80 percent of the medical bills that CoPatient analyzes provide opportunities for meaningful savings. On average, CoPatient saves its customers 40 percent on their medical bills. Since its launch in 2014, CoPatient has saved consumers more than $1 million.
According their iPhone app page, CoPatient finds errors on 80% of all bills it reviews and saves folks an average of $3,000. Their FAQ states that it usually takes ~5 days for the review (more for complicated cases), and 3-6 weeks for the appeals and negotiation process. There is no minimum bill size, they will investigate that $500 unpaid bill.
I've never used CoPatient myself, but I would definitely consider it if I was faced with a $5,000+ bill that I didn't understand. I mean, what would I have to lose?
On a related note, this is yet another consumer service that offers to save money on a contingency basis. That is, they only make money if they save you money. A few others:
AutoSlash: Helps you track price drops on rental cards. They make money when you rebook at a lower price with them.
Paribus: Helps you automatically request price adjustments on all your online retail purchases. They take a cut of the price drop savings.
AirHelp, Refund.Me, AirTaxBack: Get fees refunded for certain cancelled or missed flights to/from Europe. They take a cut of the refund.