I recently started subscribing to Consumer Reports magazine again, and the February 2012 issue included an article about the major financial brokerage companies (subscription required, press release). The first part was an investigation about the big firms (ex. Citibank, Fidelity, Schwab, T. Rowe Price) and their pre-packaged investment plan advice, and the second part was a survey on the quality of service from discount brokerage firms (ex. E-Trade, Ameritrade, Scottrade).
Consumer Reports is always unique because they don't take any advertisement money at all, and so they sent in their own staffers anonymously (by this I mean they didn't disclose they were writing this article) and then had the resulting advice analyzed by independent financial planners. Here were my takeaway notes:
Many firms will offer some level of "free advice" if you have a certain level of assets with them, usually $100,000+.
Good news: In general, the free advice is okay, but not surprisingly it tends to be boilerplate stuff.
Bad news: Most people you talk to won't provide you fiduciary duty. Most of them avoided disclosing how they were paid, and one researcher got pitched a complicated variable annuity after just a brief initial consultation.
I think fiduciary duty is a big deal, as I see no point in paying even a penny for financial advice if they won't even promise it is in your best interest. Just seems like common sense to me. I don't think I would bother to take them up on this free advice unless they were fiduciaries.
Self-Service Brokerage Firm Reviews
The Consumer Reports survey revealed that readers were "very satisfied" with 10 of 13 major brokerages, but it also left out a lot of the cheaper guys like OptionsHouse ($3.95) and TradeKing ($4.95). They seem to run this survey every few years, so here are the publicly-available May 2009 ratings: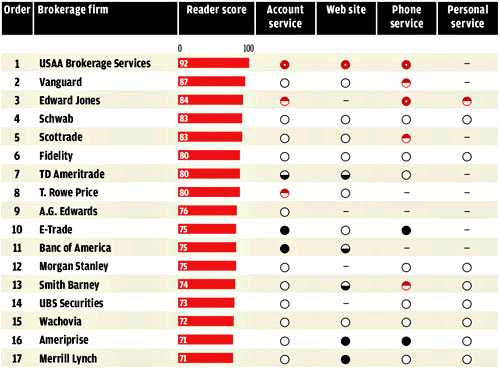 One new change was that they separated out the "full-service" brokerage firms like Ameriprise, Edward Jones, and Morgan Stanley. In comparing the remaining "discount/online" brokerage firms, it's noteworthy that the top 4 stayed the same for both 2009 and 2012, although the order changed slightly: