The Consumerist has a very enlightening article from a former used car salesman about the tricks that he used on customers, and how to recognize them. It's a long article that contains a lot of common sense advice, but I found the carefully planned psychological tactics that they employ the most intriguing. Distraction, confusion, manipulation…
At the heart of it all is the "4-square," a sheet of paper divided into four boxes: your trade value, the purchase price, down payment, and monthly payment. This is supposed to help you and the dealership come to an agreement, but as you'll see, it's really more akin to three-card monte dealer's deck of cards. Many, but not all, dealerships use this tool.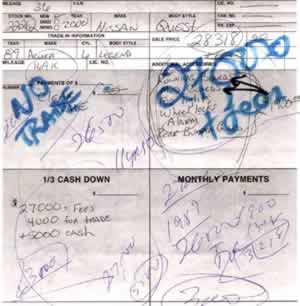 I've only shopped for a car by myself once, right after I got offered my first job. My experience was exactly as described by this article. They broke out the 4-square form, started high, tried to wear me down, showed me how good of a deal they were giving me as compared to the original price, all of it. Even down to the part where they made me sign the "X" to signify that if the price was right, that I would buy today.
I ended up talking about a used Toyota 4Runner that caught my eye, and somehow the price went from $21,000 down to $16,000 after 45 minutes of me saying "I don't know, I need to think about it". (What I was really thinking was – let me use your computer so I can look up the Blue Book value and see how badly you're trying to screw me.) The whole sleaze factor turned me off so much I just stuck with my trusty old Nissan – which I still have today.
Also, if you haven't read it before, check out this (also very long) expose as an undercover car salesman by a writer at Edmunds.com.
I do have a confession to make though – I have caught a few episodes of King of Cars late at night and it was pretty entertaining!