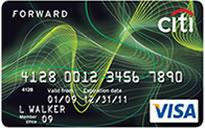 I promised to follow-up on the features of the Citi Forward® Card after getting mine, and am finally getting around to it. Read on to see how you can get a $100 gift card and also 3.45% cash back with this card at restaurants, Amazon.com, and more.
Sign-Up Bonus
The bonus ThankYou points showed up promptly. The bonus amount changes and is different now than before, so please see their website for the current offer. But I did get them as promised.
5x ThankYou Points
This card works off the same ThankYou points system as many other Citibank cards. 10,000 points = $100 gift card at stores like Sears, Macy's, Staples, Old Navy, Gap, etc. 10,000 points = $100 towards a student loan or mortgage payment. 14,000 points = $100 prepaid Visa credit card. 14,500 points = $100 statement credit.
What makes this card unique is that you get 5 points for every $1 you spend on restaurants, book stores, video rental stores and movie theaters. On everything else, you get the plain vanilla 1 reward point for every $1 spent. No annual fee.
5x Rewards at Restaurants
Again, at 1 penny per point with gift cards, getting 5x points is like getting 5% back when eating out. Even if you convert to straight cash, that's still 3.45% cash back at restaurants (5/1.45). Or 3.57% back if you are okay with prepaid Visa card, which I am since they are usable anywhere that takes credit cards.
I have gotten my 5x rewards at fast food restaurants (McDonald's), chain sit-down restaurants (Chili's, etc), and also mom-and-pop places.
5x Rewards at Amazon.com
I can also officially confirm that Amazon.com is considered a bookstore. This is true even if your entire purchase (or any of it) did not contain books. I made one purchase with books, and one with only electronics, and got 5x points for both. So you can indeed get 3.45% cash back at Amazon, or 5% back in the form of gift cards.
The 5x points show up separately under the "Bonus Points by Category Earned" on your online statement:

I can also confirm it works at Regal movie theaters. I have this card stored online at my Amazon account so I don't forget, and it's in my wallet marked for restaurants only. Makes it easy to track my dining-out budget!