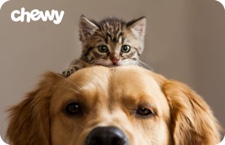 Online pet store Chewy.com is offering 35% off your first Autoship order, which is similar to Amazon Subscribe & Save where you sign up for recurring shipments of pet food and/or treats in exchange for a ongoing discount. You can cancel at any time, even after the first order. Flea medicine, big bag of dog/cat food, bulk pack of treats, etc. Discount applied at checkout. No coupon necessary.
I recommend comparing prices with Amazon regularly, as Amazon's prices on my dog food does change from month to month.
Disclosure: This post contains affiliate links, and I will be compensated if you make a purchase after clicking on my links.