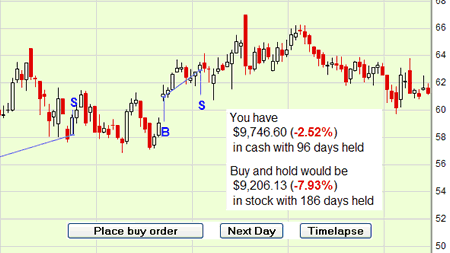 Have you ever daydreamed about becoming a daytrader? Sitting at home in your pajamas, making some clicks here and there, and making money out of nothing. Much of daytrading is based on technical analysis, of which Wikipedia says:
Technical analysis is a financial markets technique that claims the ability to forecast the future direction of security prices through the study of past market data, primarily price and volume.
Basically, you try to find patterns in the stock chart, and time your buys and sells accordingly. Doesn't sound that hard, right?
I just stumbled upon a really cool simulator called ChartGame that tests your ability to do so using old charts (via Bogleheads). Every day, you can either buy or sell your position. Your goal is to at least beat a buy-and-hold investor in the same stock. For those that are familiar, you can even plot things like RSI, Bollinger Bands, and MACD (moving averages). Try it!
Don't get too excited though if you win a few times, though. Given the parameters, a blindfolded, drunk monkey should beat buy-and-hold half the time. Remember, this is even before taking into account transactional costs like commissions, bid-ask spread, or taxes! See if you can win, say… 8 out of 10 times or better.
Although you may not believe me, I actually used to want to program this exact type of simulator when I was first learning about investing. People often think they can see patterns, but this game gives you a taste of reality. I'll be honest – I was horrible at it.