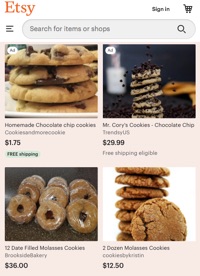 My family enjoys watching Kid's Baking Championship on Food Network, and I'm always impressed how many of these 8-13 year-old contestants have a side baking business! Last weekend, the WSJ article How Etsy Became America's Unlikeliest Breadbasket profiled home bakers selling their baked goods online through Etsy. That could be a perfect business education for a teenager, including concepts like business plans, accounting, customer service, online marketing, and basic coding.
Cottage food laws. Many states allow exemptions that don't require you to use a commercial kitchen to sell "non-potentially hazardous" items like bread and other baked goods. I knew about "cottage food laws" in terms of church bake sales, but I wasn't aware that some states have much more relaxed laws than others. For example, some states require you to sell in-person and you must hand-deliver it yourself to a customer within your home state. However, the following states allow you to sell bread and other baked goods via online marketplace and deliver them via mail:
Colorado
Idaho
Iowa
Maine
Maryland
Nebraska
Ohio
Oregon
Pennsylvania
Tennessee
Utah
Vermont
Virginia
West Virginia
Wisconsin
Source: Forrager.com, May 2020. Note that some states will require an annual home inspection and/or permits.
The WSJ article profiled the Etsy shop ChickensintheRoad by Suzanne McMinn. She lives in West Virginia, which has some of the most open cottage food laws. McMinn shares some of her Etsy history in this blog post. Both an experienced baker and soapmaker, she realized that the competition was much more intense in the soap category. She now specializes in fresh baked goods as well as various dry food and seasoning mixes.
What is a hand-crafter worth? Can you buy biscuits–or cookies or fudge or soap or bread of whatever–for less at the grocery store? YES. But you don't get the hand-crafter. You don't get the individual batch per order. You don't get homemade. You don't get that attention to detail. You don't get that packaging that makes every order of a dozen biscuits (or whatever) look like a present under the Christmas tree. That is what you get from a hand-crafter on Etsy.
Making the most out of your valuable knowledge. Thanks to a recent profile on Good Morning America, it looks like McMinn isn't even taking any new orders until late June. She's booked solid! Her skills are definitely valuable, but I can't help but notice that if she is not baking, she's not making money. She's still selling her time for money.
What I would love to see her do is create a series of online videos for making some of her specialties, and then charge for access. Yes, there are many videos for free on YouTube, but what about those superfan customers that want to recreate her exact biscuits? The best part is that it would only take a one-time commitment of say, 10 hours. After that, the upside is unlimited.
Actually, you know what would make the most money? A full digital course that would teach others how to start their own online home baking business. For example, her blog post also revealed the triple-wrapping method that keeps her biscuits at maximum freshness even when delivered in a USPS box. I'm sure she has make many mistakes along the way that would be valuable to know ahead of time. You could charge anywhere from $100 or far upwards depending on how much detailed, step-by-step content was included. Again, the upfront cost is fixed and the upside is unlimited. She could make $1,000, but she could also make $100,000 if she sold 1,000 copies over time. She could always keep on baking, but now she'd also be making money 24 hours a day, even when she's sleeping.
Indeed, she's pretty funny and I appreciate her sense of humor:
Remember that year, when I first moved to Sassafras Farm, and all the pipes froze, and I had no money, and it was like, Kids, be happy we have running water, that is your Christmas present? This year is almost like that, but with running water, and it's like, Kids, be happy there are a couple leftover cookies after I make this batch I'm shipping, cuz other than that, you can just starve! OR PAY ME BECAUSE I CHARGE FOR FOOD.
There's nothing like someone telling you that what you're doing isn't worth what you're charging right when you're dying of exhaustion from doing it.
Anyhow, I thought this was a cool example of how someone's special knowledge can be turned into a living by taking advantage of new opportunities, in this case new cottage food laws and the Etsy online marketplace. I'm also always trying to show my kids ways to decouple time and money, and not forever work for an hourly wage.