Even though most people I know are too scared to even look at their 401(k) statements right now, have you ever thought about how well your company's plan stacks up to other similar companies? The problem is that 401(k) plans lack transparency. What if every company had to publish their company match, fees, revenue sharing (*cough* kickbacks), investment choices, and vesting schedules? That would certainly produce competition and peer pressure to make better plans.
This is what the website Brightscope is trying to change. Just type in your company name and see an overall rating based on the components I listed above, also some other interesting details like average account balance. As they point out, a poorly designed plan could be costing you hundreds of thousands of dollars over time – or put another way the equivalent of an extra decade of work!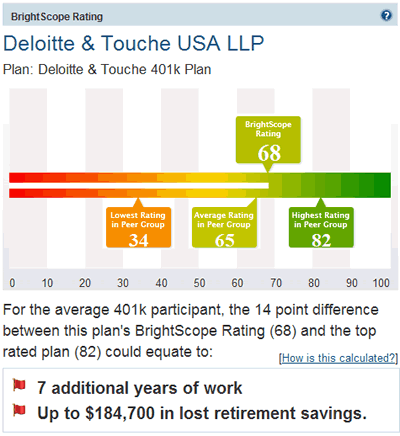 According to their site, BrightScope is the only 401k analytics firm that is truly independent and does not accept compensation in the form of revenue sharing from mutual fund companies or plan providers. This should make them objective. Found via Capital Ideas.
A related site is 401khelp.com, which covers less companies but does offer more insights and opinions on the plans it does cover. Not sure how often it is updated, though.