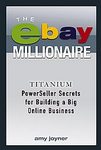 Like I've mentioned, I'm a bit weary of personal finance/retirement books at the moment, and more in the business ideas mood. So when I came across this book I had to read it. Titled The eBay Millionare: Titanium PowerSeller Secrets for Building a Big Online Business, it profiles 25 of the biggest sellers on eBay. Titanium Powersellers are those than have more than $150,000 in gross sales each month (Example: GlacierBayDVD). Umm… I was a Silver Powerseller for about 3 months ($3k/mo)… As you can imagine, these guys are not just cleaning out their garages. They have 10,000 square foot warehouses, several employees, and multiple suppliers. But they virtually all started out with just one or two people and an idea.

What did I learn? Well, for one, the key to making real money is volume. And to do volume, you need to be efficient. All that time making a nice listing, take great photos, packing, driving to the post office, waiting in line, answering hoards of e-mails – it all needs to be organized well and automated with computers whenever possible. Some of the tools they talk about are pretty cool. They run data on what times are best to sell (evenings, and weekends), which products sell best when, where geographically their customers tend to be located. Most of their listing are pre-made, are automatically relisted when the don't sell, they use barcodes for tracking items, and prepaid shipping labels are printed out the second you pay for your item. Lots of little things.
Also, most of the sellers profiled are overstock liquidators – they get used or surplus equipment that companies need to get rid of and sell them. And that is real secret of these Powersellers. Their suppliers. Who is giving them such cheap stuff to sell? Who are their drop-shippers? Of course, nobody is going to tell you that. I wouldn't if I was them.
In summary, this book is a fun read of success stories, like the guys who got fired and their last task was to take a warehouse full of old A/V stuff to the junkyard. Instead, they sold it and now run a million-dollar surplus A/V store. But, if you are looking for a "how do I sell my antique bubble gum wrappers for the most money" kind of book, this ain't it. Now to find me some suppliers!