If you've been shopping online for a while, you've probably heard of cashback shopping "malls" or sites like eBates which offer you a bit of money (or miles or points) back on your purchases made through them. I could have sworn I wrote a post about this already, but anyway, the new kid on the block is Bing Shopping brought to you by Microsoft.
Here's some of the fine print:
A waiting period (of up to 60 days) and $5 minimum applies to payouts. To earn your cashback, stores will provide us (Microsoft) non-personal info about your purchase, and you will need to provide us with personal information (like your email address above) to create a Bing cashback account. We may use this information to personalize your online experiences, and will treat all your information in keeping with the Microsoft privacy statement. cashback is available only for personal purchases made during your store visit directly from the Bing site. You cannot use coupons or discounts. See Bing cashback terms. Additional store terms may apply.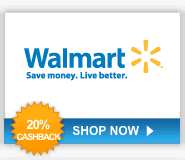 If you follow the rules, right now you can get some pretty sizeable cashback, including 20% off Walmart.com and 20% off eBay.com purchases*. These stores carry many items that can be hard to find at an additional discount. For example, Walmart sells Apple iPods and eBay sells gift certificates and physical gold.
Always look for an link that looks like this, with the Bing cashback coin:

For example, I just bought an Ooma Hub & Scout from Walmart for $229 minus 20% ($45.80) and also a $25 Walmart gift card, for a net price of about $158. Otherwise, the lowest I could find from various price comparison sites is the price at Amazon of $215, although in some states you may be able to avoid sales tax. After finishing checkout, I immediately received an e-mail saying that I'd get $45.80 after 60 days payable to my PayPal account.
* Visit bing.com/shopping and run a search for "sony". Look for an ad about cashback from eBay (see above). Click and you should see this image at the top to confirm your 20% cashback: