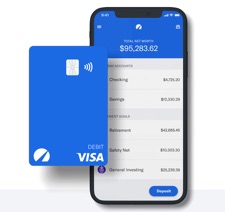 Betterment, best known for their automated portfolio management software, has added a high-yield savings product called Betterment Everyday Cash Reserve. An additional checking product is "coming soon". This product has several unique features that makes it unlike many other savings accounts. Here are the highlights, followed by both the important pros and cons of this account.
Betterment Everyday Cash Reserve (Available Now)
Promotional rate of 0.40% APY as of 2/1/2021 (EFFR + 0.25%) if you sign up for the Everyday Checking waitlist (free)
Base rate of Effective Federal Funds Rate (EFFR)
FDIC insurance up to $1,000,000
No minimum balance. Minimum opening deposit is $10.
No monthly fees
If you are an existing Betterment client with Smart Saver, that is going away. You can move over immediately or wait to be transitioned over to this product.
Betterment Everyday Checking (Coming "Later This Year")
No interest paid
No minimum balance
No monthly or maintenance fees.
No overdraft fees.
ATM fees reimbursed worldwide
FDIC insurance covering up to $250,000†
$1,000,000 FDIC insurance through partner banks. They can offer up to $1,000,000 in FDIC coverage because they use multiple partner banks, currently including:
Barclays Bank Delaware
Citibank, N.A.
Georgia Banking Company
Seaside National Bank & Trust
Valley National Bank
BankUnited, National Association
ConnectOne Bank
East West Bank
Third Coast Bank SSB
You can manually opt-out of one of these banks, for example if you already have cash with them, as to not exceed the $250,000 FDIC insurance limits at any single bank.
Interest rate is directly linked to the Effective Fed Funds Rate. The rate on Everyday Cash Reserve is variable, and will move with the effective federal funds rate (EFFR). As long as you are on the Everyday Checking waitlist, you will get the EFFR + 0.25%.
I view this as a good thing overall, as it's guaranteed to be quite competitive against most non-promotional rates. It also provides more transparency and lowers the chance of a bait-and-switch to some really sad rate. However, the 0.25% boost above the EFFR is currently a waiver of their 0.25% management fee good through 2019. Being on the waitlist is free and comes with no obligation to open the account, so that's not a big deal. However, it's not clear if or how they will extend the waiver after that. You might need an active and open Everyday Checking account, set up direct deposit, or jump through a similar hoop.
Everyday Cash Reserve isn't your normal bank savings account. There are some quirky things that you should know about.
No joint accounts.
No routing number or account number, so no direct deposit or linking via other banks.
You can only initiate ACH transfers through Betterment, and you can only link one external bank account.
It's not a "real" savings account, so there is no limit of 6 withdrawals per month.
Everyday Checking plans to offer things like direct deposit (and thus real routing and account numbers).
Bottom line. Betterment, a "robo-advisor" best known for their automated investing service, has added a high-yield savings product called Betterment Everyday Cash Reserve. There are some limitations with external bank transfers, but I do like that it has a transparent structure that links the interest rate to the Fed Funds Rate. If you sign-up on their EveryDay Checking waitlist, you can get a competitive rate on liquid savings.