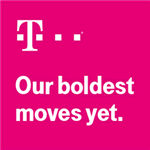 A few months ago there was a flurry of newspaper articles about families with huge $300+ cell phone bills. I don't have to deal with this yet, but here is a value option for those of you paying for multiple lines for parents, grandparents, kids, or just roommates sharing.
The T-Mobile Simple Choice Family plan offers a smartphone plan with unlimited talk, text, and data starting at just $100 for 4 lines with no contract ($50 for the first person, $30 for the second, and $10 for each additional person). That's just $25 per line before any discounts, taxes, and fees.

How can this unlimited plan possibly be so cheap?!
#1. "Unlimited web" is broken down into 4G "high-speed" HSPA+/LTE data and their slower 2G data networks. The base plan includes 500 MB of high-speed data for each line (not shared). After that, you get punted to slower 2G speeds (~100 kbps reportedly) unless you pay for more. I actually think this is a good compromise. If you have kids that "need" the ability to check the web for "homework" (aka Facebook or Instagram) all the time, 2G speeds may be enough. Otherwise, just tell them to use the WiFi at home. If you want more high-speed data for your line, you can pony up $10 more for 2.5 GB of 4G data or $20 for unlimited.

#2. T-Mobile doesn't provide any upfront subsidies for new phones. You can either bring your own phone (BYOP) and use a $10 SIM card, or buy a new phone from them on a payment plan of $20 a month or so. This works out for those that are willing to do a little searching and buy a cheap unlocked iPhone or Galaxy Nexus 4 or Samsung Galaxy S3 which are all solid phones with many available for under $300. Unlocked GSM phones also retain their value better if you switch out.
#3. Coverage. It is widely-advertised that T-Mobile has a smaller nationwide coverage footprint than AT&T or Verizon. However, in practice it's all about how the coverage is where you are. I tried T-Mobile's prepaid plan using a SIM card for a month and didn't have any problems with coverage, but I didn't stray from major metro areas.
Don't forget discounts! The T-Mobile Advantage program has a lot of agreements with various providers to provide 10-15% off their plans.
For corporate and government discounts, check your eligibility here with just your e-mail address. More details here.
AAA club members can get 10% off monthly plans by visiting aaa.com/tmobile. Reportedly this also works in T-Mobile stores. Check with your local AAA office.
Students can get 10% off monthly plans by registering for free at StudentRate.com. Note: I was able to see the discount by just clicking on the black box with promo code 13997TMOFAV.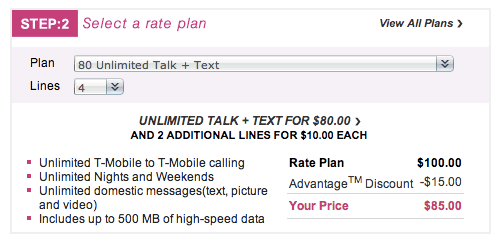 I found that my affiliation discount was 15%, which gave me 4 lines for just $85. Keep in mind that this a normal postpaid plan so there will be the usual monthly taxes and fees of ~$5 per line. If I had to pay for multiple lines, I'd definitely consider this plan. Any T-Mobile users out there that have switched to this plan? How is the 4G coverage and how is the 2G EDGE speeds after that?