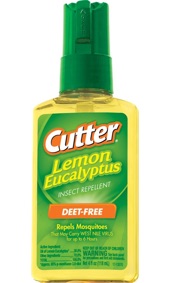 The World Health Organization has declared Zika virus an international public health emergency. If you are concerned about exposure to mosquitos due to Zika, West Nile, Dengue, or other diseases, read this NPR article about a 2015 Journal of Insect Science study that tested various commercially-available mosquito repellents in a sealed chamber with a treated hand.
We spend a decent amount of time outdoors and are regularly bit by mosquitos, so we have also been experimenting with various bug sprays in the last few years (especially for kids). I was pleased that our anecdotal results very closely matched those found by this study. First, here are the numbers from the scientific study: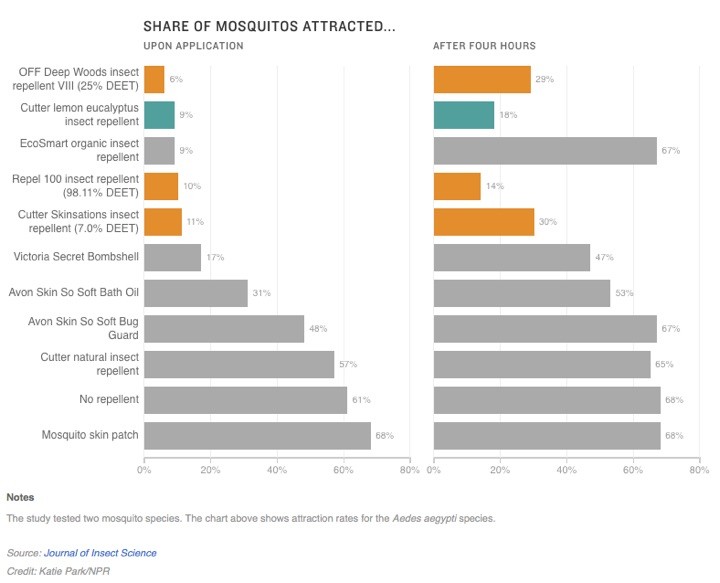 Takeaways:
Don't buy by brand, look for the active ingredient. For example, the Cutter brand has repellents with many different active ingredients. Some of them hardly work at all ("Cutter natural insect repellent") while others work great ("Cutter lemon eucalyptus insect repellent").
DEET works well, but you should use the lowest concentration possible. In the first hour or so, the chart above shows that mosquitos were repelled the same amount by 7% DEET and 98% DEET. Even after 4 hours, the 98% DEET was only a little bit more helpful. Why expose yourself to that much extra chemicals if you don't have to? Sleeping overnight in the rainforest is not the same as a morning trip to the zoo! Just reapply if you need to.
For kids and infants older than 2 months, these Cutter Family DEET wipes have the relatively low 7% concentration but also allow careful application (you aren't inhaling DEET or spraying into eyes or on little hands which end up in mouths). The single serving packages are easy to carry. (Note that on Amazon it is under three bucks as an Add-on with Amazon Prime.) While effective and supposedly rather safe, I simply don't like the smell of DEET products, so we try to limit our use.
Oil of lemon eucalyptus works just as well as DEET. Look at those turquoise chart bars above. This stuff is just as good in the first hour, and actually better than most DEET sprays after 4 hours. Lemon eucalyptus oil is the only plant-based repellent recommended by the CDC. However, in most products it is synthesized (re-created in a lab, not squeezed from a plant). Still, we have found it to work quite well. It does have a strong lemony-herbal scent, but I actually don't mind it since it smells natural. The only problem is that officially it is not recommended for children under 3. However, I couldn't find a solid reason why, other than either (1) possible skin irritation or (2) it simply hasn't been tested on children under 3.
Our adult and older-kid repellent of choice is the Cutter Lemon Eucalyptus insect repellent.
Try some others for yourself.. Just like how some mosquitos like certain people more than others, I believe different mosquitos hate different repellents. Our last "favorite" mosquito repellent is the Avon Skin-So-Soft Bug Guard with IR3535 (cheaper here for some reason). It is does not appear to be the same Avon tested by the study above, which lists an active ingredient of citronella oil. While we found this stuff not as effective as the two listed above, it does repel bugs for the first hour or so. Label says it is for children 6 months and up.
This last one is our "stealth 2-in-1" bug lotion + SPF 30 sunscreen, with no chemical or herbal smell. This white lotion goes on just like a high-quality sunscreen with a light fragrance.
(The mosquito repellents that depend on "organic, essential oils" like rosemary or lemongrass will work a little initially, but literally become useless within 30 minutes. Look at the full study results at the 30 minute interval. I wish they worked too… maybe if I was just going to check the mailbox.)
I know this isn't especially financially-related, but I wanted to share our experiences. Hopefully you won't waste money on stuff that doesn't work.