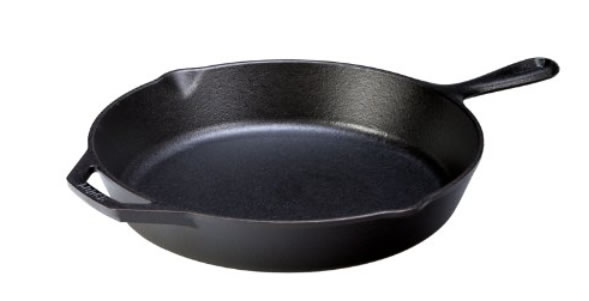 Back in 2007, I wrote about cast iron skillets as the ultimate frugal cookware? To this day, I still think they can play a regular role in the home kitchen. America's Test Kitchen (ATK) has recently released to free e-mail newsletter subscribers the results from their extensive test of various cast-iron skillets. They made everything from scrambled eggs to steaks to cornbread. (Must sign-up and log-in to view. Did I mention it's informational and free?)
Over the past 30 years, nonstick skillets have taken the place of cast iron in most homes. But with disturbing reports about the effects of nonstick coatings on the environment and our health, we decided to take another look at cast iron to see if it's worth bringing back into the kitchen.

Cast iron has always been known to have a few advantages over other types of cookware. Its material and weight give it excellent heat retention for high-heat cooking techniques such as frying and searing. You can use it on the stovetop or bake with it in the oven. Its durability is legendary—many people are still cooking with cast-iron pans handed down for generations. Unlike most consumer products, cast-iron pans actually improve with time and heavy use.

Cast iron also has disadvantages. It's heavy and needs special care. […]
As to the special care, I suggest reading this link about the many myths about cast iron pans. A bit of soap is fine. You do want to keep them dry when not in use to avoid rust spots, though.
The winner? Why, the same model and size I bought myself back in 2007, the $34 Lodge L10SK3 Pre-Seasoned Skillet, 12-Inch with a 4.6/5 rating and over 5,000 reviews. (This 10-inch version is only $15.) Read the full article for the details and rankings of other brands. Here's a screenshot of my Amazon page when logged-in as proof: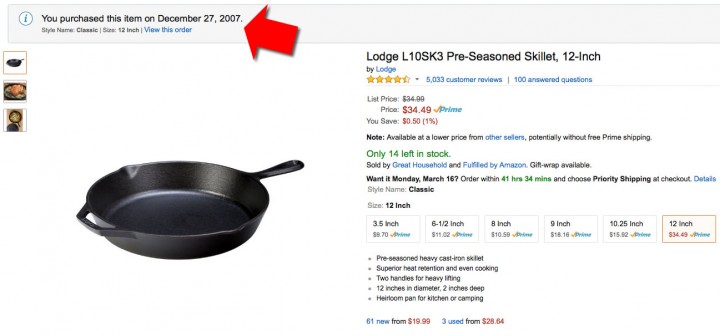 These days, my workhorse cookware is my enameled cast iron dutch oven. Soups, stews, chilis, short ribs, pork shoulder, and so on. Eggs, searing, and cornbread can be done as well. Less maintenance but a little costlier. Well, Le Creuset and Staub are high quality and high price (we got one as a gift and love it), but this $70 Lodge dutch oven also gets good reviews. Tramontina dutch ovens are another well-reviewed and cost-conscious choice; you can find them sometimes at Wal-Mart and Costco physical stores.