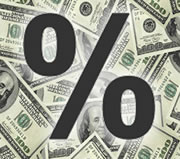 Our family keeps a year's worth of expenses (not income) put aside in cash reserves. Even if you think that's too much, you still need something. There are many ways that the ROI on emergency funds can be higher than simply the interest rate on your bank statement.
If you have cash, it pays to shop around for the most highest interest rates since they are all equally "safe" as long as they are backed by the US government (FDIC-insured, NCUA-insured, US Treasury Bonds, US Savings Bonds). Chase Bank on a 1-year CD? 0.02% APY. Bank of America on a 10-year CD? 0.15% APY. Seriously, who buys these things?!? As of 4/2/2017, below is a roundup of the best safe rates available, roughly sorted from shortest to longest maturities.
High-yield savings accounts
While the huge brick-and-mortar banks rarely offer good yields, the online banks with a history of competitive rates offer online savings accounts clustered around 1% APY. An important feature to note with savings account is that their interest rates can change at any time.
As I've been "bait-and-switched" a few times and there are no lucrative rates that make it worth taking another risk, I am currently sticking with Ally Bank for their reliably competitive rates and overall good user experience. Their online savings is currently at 1.05% APY.
Short-term guaranteed rates (under 1 year)
I am often asked what to do with a big wad of cash that you're waiting to deploy shortly (just sold your house, just sold your business, inheritance). Honestly, I wouldn't get fancy or take unnecessary risk. Just keep it safe in a short-term CD or online savings account that in insured under the FDIC limits until you have a plan.
Palladian Private Bank has a 6-month promotional rate of 1.30% APY guaranteed (maximum initial deposit of $100k) for new accounts. After the first 6 months, the rate reverts back to their normal rate (currently 1.10% APY). Since the initial promo rate is fixed, this makes it the highest 6-month CD rate available.
US Savings Bonds
Series I Savings Bonds offer rates that are linked to inflation and backed by the US government. You must hold them for at least a year. There are annual purchase limits. If you redeem them within 5 years there is a penalty of the last 3 months of interest.
"I Bonds" bought through the end of April 2017 now will earn a 2.76% rate for the first six months, and then a variable rate based on ongoing inflation after that. While that next 6-month rate is currently unknown, at the very minimum the total yield after 12 months will be competitive with the best current 1-year CD rates. More info here.
In mid-April, the CPI will be announced that factors into the new fixed rate in May, which would give you a very close estimate of the rate for the next 12 months. I will have another post up at that time.
Prepaid Cards with Attached Savings Accounts
A small subset of prepaid debit cards have an "attached" FDIC-insured savings account with high interest rates. The risks are that balances are capped, and there are many fees that you must be careful to avoid (lest they eat up your interest). The other catch is that these good features may be killed off without much notice. My NetSpend card now only has an eligible balance up to $1,000.
Insight Card is one of the best remaining cards with 5% APY on up to $5,000 as of this writing. Fees to avoid include the $1 per purchase fee, $2.50 for each ATM withdrawal, and the $3.95 inactivity fee if there is no activity within 90 days. If you can navigate it carefully (basically only use ACH transfers and keep up your activity regularly) you can still end up with more interest than other options.
Rewards checking accounts
These unique checking accounts pay above-average interest rates, but with some risk. You have to jump through certain hoops, and if you make a mistake you won't earn any interest for that month. Rates can also drop quickly, leaving a "bait-and-switch" feeling. But the rates can be high while they last.
Consumers Credit Union offers up to 4.59% APY on up to a $20k balance, although 3.09% APY on a $10k balance might be easier to achieve unless you satisfy a long list of requirements. Note that the 4.59% APY requires you to apply and get approved for an additional credit card through them (other credit cards offer $500+ in sign-up bonuses). Keep your 12 debit purchases small as well, as for every $500 in monthly purchases you may be losing out on 2% cashback (or $10 a month on after-tax benefit). Find a local rewards checking account at DepositAccounts.
Certificates of deposit
If you have a large cushion, it's quite likely to just sit there for years. One option is to keep your money in longer-term investments where you can still take it out in a true emergency and pay a reasonable early withdrawal penalty. Alternatively, you could create a CD ladder of different maturity lengths such that you have access to part of the ladder each year, but your blended interest rate is higher than a savings account.
Connexus Credit Union is offering a 1-year Share Certificate at 1.50% APY (90-day early withdrawal penalty) and a 3-year Share Certificate (180-day early withdrawal penalty) at 2.00% APY. Both have a $5,000 minimum deposit. Anyone can join this credit union via partner organization Connexus Association for a one-time $5 fee.
Mountain America Credit Union is offering a 5-year Share Certificate at 2.75% APY (365-day early withdrawal penalty). You are even allowed a one-time rate bump if the rates on this certificate rise. $500 minimum deposit. Anyone can join this credit union via partner organization American Consumer Council for a one-time $5 fee.
Longer-term Instruments
I'd use these with caution, but I still track them to see the rest of the current yield curve.
Willing to lock up your money for 10+ years? Did you know that you can buy certificates of deposit via Vanguard's bond desk? These "brokered CDs" offer the same FDIC-insurance and are often through commercial banks like Goldman Sachs. As of this writing, you can get a 10-year non-callable CD that pays 2.85% APY. (Unfortunately, current long-term CD rates do not rise much higher even as you extend beyond a 5-year maturity.) Prices will vary daily.
How about two decades!? Series EE Savings Bonds are not indexed to inflation, but they have a guarantee that the value will double in value in 20 years, which equals a guaranteed return of 3.5% a year. However, if you don't hold for that long, you'll be stuck with the normal rate which is quite low (currently a sad 0.10% rate). You could view as a huge early withdrawal penalty. You could also view it as long-term bond and thus a hedge against deflation, but only if you can hold on for 20 years. Too long for me.
All rates were checked as of 4/2/17.