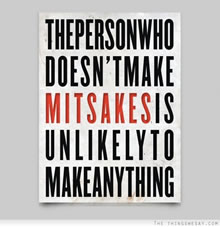 I really enjoyed this article by James Altucher called "The Best Advice Ever To A Teenage Daughter Who Needs To Make Money". His kid is considering taking an $8 an hour job, presumably in either the food or retail industry. Why not? The first three items on my complete job history were certainly along those lines, along with nearly everyone else including these comedians. But he has some alternative advice, here is just a snippet:
I said to her, instead of that: why don't you go to Lynda.com or CodeAcademy.com and learn basic WordPress skills. You can make blogs for stores.

It would take you ONE DAY to learn the basics.

Then go from door to door to every store in town.

Say for $1000, plus $50 / month maintenance, you'll make their blog or basic website for them and help them upkeep it. If they require a "shopping cart" then charge them $2500.

She frowned a little and said, "They will say No. They don't need it."

She doesn't want anyone to say No to her. I can relate to that. I don't like it when people say No to me either.

I said, "Ok, we have about 40 stores on this street. Let's say only 2 say yes. That's $2000. It will take you ten hours to do the work.

That's $200 an hour instead of $8 an hour.
Now, a lot of people seem to think learning coding = rich kid these days. But I think his point is more about getting out there and "making something out of nothing". Right now, a WordPress blog is probably the easiest way to do that (ahem). Also, it's about just getting out there, trying some stuff, and seeing what works and what doesn't. If you start a self-employed business, you will pick up most of the subsequent skills he talks about – accepting rejection, dealing with failure, salesmanship, communication, customer service, creativity, competitiveness.
If either of my daughters has that independent wrinkle in her brain like her old man does, I'd like to nurture it.
Here are some other money-making options that I've though of, although the environment may be different when they finally become teenagers.
Buy things at garage sales or local stores and then resell them on eBay or Amazon Marketplace.
Make your own crafts and sell on Etsy.
Start a stand at the local farmer's market or weekend flea market.
Design or invent something and figure out how to get a factory in China to build it for you.
Start a YouTube channel (learn video production and editing skills).
On the other hand, I actually think a menial $8 an hour job is still working taking on, if only to experience firsthand how tough it is.