Even though I participate in a lot of bonus offers, I always read the fine print, as credit card companies can be very tricky in their wordings. Here's a pop quiz – What's wrong with this offer?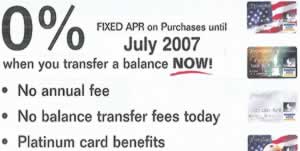 At first glance, I thought hey, pretty good! They are offering 0% APR with no annual fee and no balance transfer fees for about 18 months! And it's from Providian, which is not one of the companies I have a balance transfer with right now.
But upon further inspection, you'll notice that the 0% is on purchases only. I like how the word "purchases" is in a smaller font than the other words and not all caps. The APR on Balance Transfers is actually 8.99% for this offer, and all payments will first go towards your purchases instead of balance transfers as they are at the lower interest rate.
All of the no-fee balance transfer offers I list are pre-screened and re-checked periodically (just did it now), and have no such catches, but I would still read through the fine print anyways.