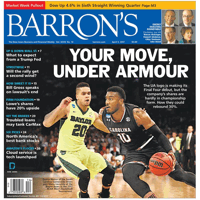 Barron's has released their 2017 annual broker rankings. Two major themes this year are (1) trade commissions dropping overall and (2) improved mobile app trading.
To analyze 2017's top brokers, we took a hard look at the value they offer to clients, analyzing security, mobility, and social-media features as well as the depth of their investment tools and their trading capabilities. Our primary consideration in judging these 16 firms is how they work for our readers, who are high-net-worth active investors. Price-improvement statistics are built into our Trading Experience and Technology category.
Note that part about high-net-worth active investors, which may or may not describe you. Their overall winner this year was Fidelity Investments, which barely beat out last year's winner Interactive Brokers. Thankfully, Barron's also supplied separate rankings for novice investors, long-term investors, and those that value in-person service:
Top 5 Brokers for Novice Investors
Top 5 Brokers for Long-Term Investing
Top 5 Brokers for In-Person Service
If you really want to get into the details, another handy feature is Barron's huge comparison chart with data from all the brokers surveyed. As in past years, Vanguard declined to participate in the survey.
Quick commentary. I agree that TD Ameritrade is good for long-term investors who want to use an independent brokerage. They combine a full brokerage feature set with a list of 101 commission-free ETFs based on overall popularity (which means they are the ETFs you'd actually want to buy).
There was no mention of the Robinhood free trading app. Does the lack of any competing free trading apps indicate that this business model isn't viable?
I keep most of my long-term assets directly at Vanguard, while my individual stock trades are done through Merrill Edge. I'm happy with them so far. If you have $50,000 in assets across Merrill Lynch, Merrill Edge, and Bank of America accounts, you get 30 free trades per month. That's already more trades than I need, but $100k in combined assets gets you 100 free trades per month.