Conforming loans are those that satisfy the criteria that Fannie Mae and Freddie Mac set regarding what kinds of loans they will buy. Besides certain credit-related guidelines like debt-to-income ratio, one major constraint is the maximum loan amount. Barring any upcoming changes (see below), the current limits are $417,000 in the continental US (AK, HI get $625,500).
Because they can be so readily sold to these psuedo-government entities, conforming loans are usually very competitively priced. Non-conforming loans have to be sold elsewhere or kept in-house, so they usually end with higher rates. But as recently as July 2007, the added cost for a non-conforming loan might have been only 0.20%. However, due to rising default rates and skeptical investors, the premium is currently around a full 1%. This has led to the increasing popularity of replacing a jumbo loan with two loans – a conforming one and a second loan to make up the difference.
Example. Let's say you wanted to buy a $600,000 home, with a 20% down payment ($120,000). This leaves $480,000 to be financed, which is over the $417,000 conforming cap. With a single Jumbo loan, here's your scenario. (I'll use estimated mortgage rates based on current market conditions.)

But, here's what happens when you split it up into a $417,000 conforming loan and a $63,000 second loan. The second loan usually has a higher interest rate, similar to that of a home equity loan.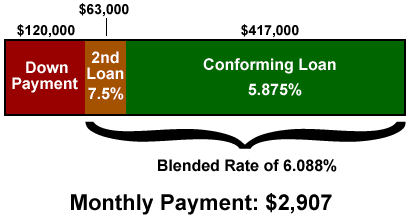 By restructuring, you have lowered your effective interest rate nearly 50 basis points .from 6.5% to 6.01%, which in turn lowered the mortgage payment by $127 a month ($1,524 a year). To find the blended rate, I used the this Dinkytown calculator.
The Fine Print:
This works best with small 2nd loans. Kind of obvious, but the less you have to put on the 2nd loan with higher interest, the better your blended rate would be. As the loan amount rises, there will likely be a point when the plain Jumbo loan will give you the lower payment.
The second loan can be structured in a variety of ways. It could be a completely separate loan from a different lender, it could be a home equity loan from the same lender, or it could be a home equity line of credit.
You might have balloon payments. In my case, I was offered a equity loan amortized over 30 years, but with a balloon payment due after 15 years. So I would need to either pay off that $63,000 within 15 years, or refinance before then.
Possibly higher closing costs. The second loan may incur closing costs, but they should be a lot smaller than the first loan because things like appraisals have already been paid for.
Conforming limits might change soon! The pending economic stimulus package legislation – which is almost on Bush's desk as I type – proposes to temporarily raise the conforming limits to as high as $729,750 in "high cost" areas based on median home price. It is unknown how soon this will take effect, but probably too late for me. (Google News)