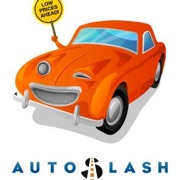 Here's a quick tip that I've been using regularly this summer for saving money on car rentals.
A quick primer on car rental reservations. When you make a reservation at most car rental shops, you simply agree to a price and make a non-binding reservation without giving any payment information. You can cancel at any time, without penalty. Technically, even if you just don't show up there is no penalty besides bad karma. The flipside is that they overbook and occasionally your subcompact turns into a Ford Crown Victoria.
First, book your car rental as early as possible using the best deal you can find on your own, be it through a business account, promo code you found online, or using an opaque booking site like Hotwire or Costco Travel. As there are no penalties for cancellation, so you want to start the process as soon as possible.
(Do not use AutoSlash to make your initial reservation. Well, you can try, and then just wait for the future price drop notifications, but you may not get a very good price initially.)
Next, enter your reservation information into AutoSlash.com to monitor price drops. I first wrote about AutoSlash back in 2011, and while their service has changed a bit due to industry pushback, it can still be a valuable service. (Their initial search service excludes many major agencies, but their price-drop tracking service includes them all including Avis and Hertz.)
AutoSlash will then continuously search for a lower price using your dates and preferences, often using coupon codes that you may not know about. If they can find something lower, they will e-mail you. If the new deal looks better than your old one, you can go through their site and book the new deal. Just cancel your old reservation afterward and you'll have taken advantage of the price drop with no fees or penalties.
I just went from a $66 one-day rental with Alamo to $29 with Avis: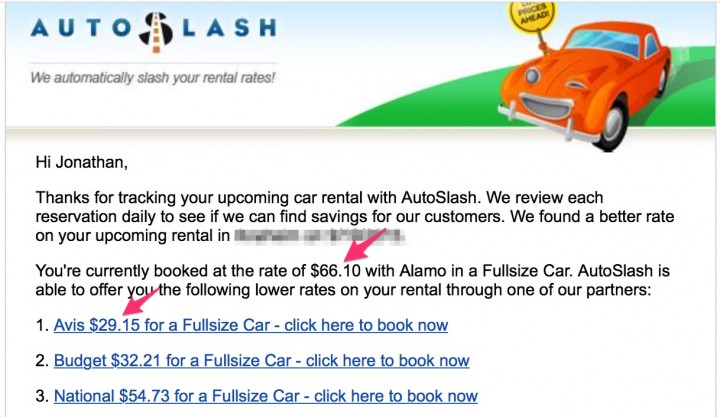 Some potential minor issues:
You may be presented with quotes from lesser-known rental agencies. I normally try to support smaller businesses, but in this case I am wary of being improperly charged for a dent or scratch on the $25,000+ vehicle they are lending me. I have used Dollar/Budget/Alamo/National/Enterprise without any problems.
The lower price quotes may not offer pickup at the exact location you booked initially, especially if not at an airport. Depending on your situation, the savings may be worth a bit of a walk or a short taxi ride.
You may get a lot of price drop e-mails, and also multiple confirmations of new bookings. I know that for one reservation where I re-booked multiple price drops, I probably accumulated over 20 e-mails.
Because AutoSlash uses promo codes it pulls from around the web, I have read stories that a rental agency can deny a price quote because it claims that you weren't eligible to use that promo code. I have never run into a problem like this (and would otherwise use promo codes from the internet anyway), but I thought that I should mention it.
Even if AutoSlash never e-mails you, at least you have some additional peace of mind that you got close to the best deal on your auto rental. All for free and with minimal effort.