I just got back from my trip to Orlando, where I tried the new car rental website AutoSlash.com to book, and previously wrote an introductory summary of their features. To briefly recap, the website takes advantage of a unique feature of car rental reservations to continuously check for lower prices over time and re-book you whenever there is a price drop.
Here is the price history of my one week rental of a mid-size car in April 2011 from Orlando International Airport (MCO). I later realized it included Good Friday and Easter weekend, which I think increased the demand of cars.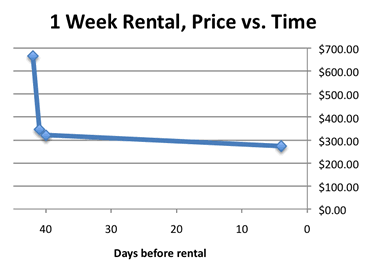 Day 1 – $665.61 including all taxes and fees, with Payless. This was really the lowest price I could find at the time across Kayak, Expedia, etc.
Day 2 – $346.18 with Dollar Rent A Car at .
Day 3 – $320.41 again with Dollar.
Day 38 – $273.68, final price with Dollar.
As you can see, there was a flurry of activity in the beginning, nothing for a long time, and then finally one last price drop at the end. This is only a theory, but I think that the folks behind Autoslash do a price search for a week or so after your rental reservation is first made, and again a week or so before your actual rental date. Or perhaps this is just a result of how the rental agencies vary their prices over time.
Regardless, I was really happy with my experience, and will use them again in the future. They found a better price than I could have found, with really zero effort on my part. Many of these rental agencies are clones of each other anyway. I picked up my car from Dollar with no issues with my special coupon code, and drove away in a huge Ford Crown Victoria with 9 miles on the odometer since that's all they had left. I declined all additional insurance coverages from them, and returned it with no problems. This last part is more of a testament to that specific Dollar franchise, but it increases my confidence with places that aren't Avis or Hertz.