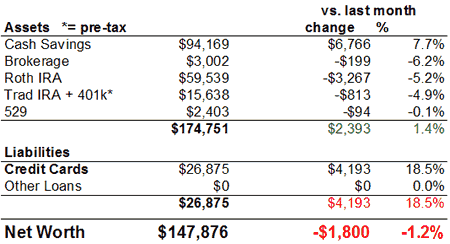 About My Credit Card Debt
Newer readers may be alarmed by my high levels of credit card debt. In short, I'm borrowing money for free and keeping it in safe investments while earning me 5-6% interest. Along with other things, this helps me earn extra side income of thousands of dollars a year. Recently I put up a series of step-by-step posts on how I do this. Please do check it out if you are curious. This is why, although I have the ability to pay the balances off, I choose not to.
Commentary
What a crazy month July was. Saying goodbye, packing up, visiting family, celebrating a marriage, moving, saying hello! In the meantime, our net worth dropped, again! What happened?
» Stock Market Blues. With everything that's been happening, I haven't been keeping up with this wild stock market ride. Losing 5% in one month in our investments was a surprise. Sub-prime loans are either a real factor to worry about or mainly just a cover-up for the fact that people really don't know what to think right now. I certainly don't, but I never try to understand the short-term movements of the markets.
» Moving Chaos. Moving cross-country really throws off a budget. We ate out a lot. We paid for travel costs. We had to pay for movers, but are waiting to get reimbursed by our employers. We bought some new furniture. We only had to pay for rent for a part of July, but we're still waiting for our security deposit back.
» New Jobs. We're both in our new positions and faced with new co-workers and bosses, bigger (upcoming) paychecks, and a whole new set of challenges. I have to decide on investments and contribution levels for a new 403(b), as well as other benefits like health insurance, dental insurance, and disability insurance. Lots of stuff to talk about in August!
Quick summary time… We are still saving cash, with our non-retirement funds now add up to $72,699, and total cash is $67,294 (+$2,573 from last month). Read about our mid-term and long-term goals and take a look back at our previous net worth updates.