Every year, investment consultant firm Callan Associates updates a neat visual representation of the relative performance of 8 major asset classes over the last 20 years. You can find the most recent one below (view as PDF), which covers 1995 to 2014. For each year, the best performing asset class is listed at the top, and it sorts downward until you have the worst performing asset. You can find previous versions here.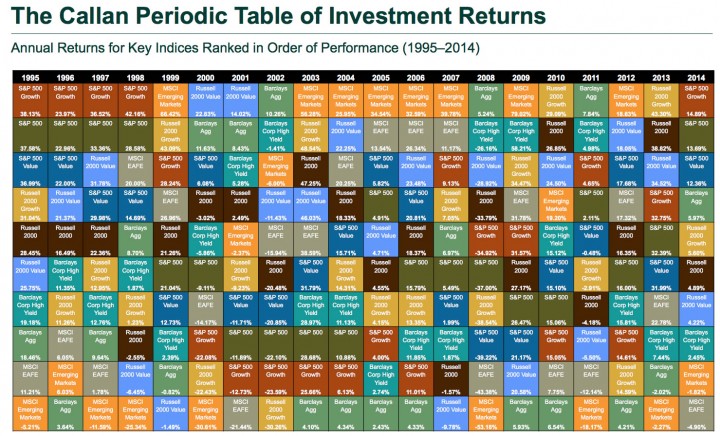 The Callan Periodic Table of Investment Returns conveys the strong case for diversification across asset classes (stocks vs. bonds), investment styles (growth vs. value), capitalizations (large vs. small), and equity markets (U.S. vs. international). The Table highlights the uncertainty inherent in all capital markets. Rankings change every year. Also noteworthy is the difference between absolute and relative performance, as returns for the top-performing asset class span a wide range over the past 20 years.
I like focusing on a specific color (asset class) and then visually noting how its relative performance has bounced around for a few years. The ones that enjoy a stint at the very top are usually found on the bottom eventually.
So instead of trying to predict one asset class that will outperform this year, why not commit to holding a multiple, productive asset classes that will balance each other out over time. Pick ones that will have a long-term positive return, but in any given year might perform poorly. Hold them in a low-cost manner, and rebalance your holdings if they get out of whack.