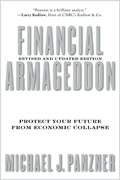 Like scary stories? I usually stay away from the horror movies section, but I was intrigued by the idea behind of Financial Armageddon: Protecting Your Future From Economic Collapse by Michael Panzer. This is a book about why our economic system is in danger, how it will collapse, and the bleak future ahead. Keep in mind that this was initially published in March 2007, even before the peak of the subprime mortgage mess and current economic slowdown. The book is separated into four parts: Threats, Risks, Fallout, and Defenses.
Threats
Here, the author lays out a relatively convincing picture of how fragile our economic system really is right now. This is the best part of the book in my opinion, and what you should read it for.
Debt. Our nation is in huge debt. Many consumers are also in huge debt or living paycheck-to-paycheck. We spend and spend, and don't save for a rainy day. Guess what? Neither does the government. Does this sound healthy?
The Retirement System. We all know that more people are on their own with plans like 401ks, for better or worse (mostly worse). The problems with Social Security are relatively well-known. After a few big blow-ups like United, we now know that many private pensions are underfunded. And you know what? Many public pensions are underfunded as well. This is what happens when you allow politicians who need to get re-elected every few years to make promises for the next 100 years. If you think municipal governments can't go bankrupt, check out the City of Vallejo. In other words, the things we depend on in our old age are shaky as well.
Federal Guarantees. We all love the FDIC insurance for our bank accounts, since we can basically keep our money anywhere. But due to fractional-reserve banking, for every $1 in checking accounts a bank can make $10 in loans. In other words, if a real "bank run" occurred, the FDIC reserves would be depleted quickly. Imagine what would happen if FDIC insurance started getting revoked. He also picks on Fannie Mae and Freddie Mac, which are both allowed to do some crazy things because they are "government-sponsored" and therefore people assume the government will bail them out if something goes wrong.
The problem with this is that such government guarantees encourage such financial institutions to take huge gambles. *cough* sub-prime mortgage loans *cough*. Indeed, many banks believe themselves to be "too big to fail" because they are so critical to the system. This is how we ended up with Bear Stearns being sold for $2/share. Indeed, Bear Stearns was too big to fail, so the government tried to make the bailout as painful as possible.
Derivatives are the final threat, and are instruments designed to manage risk. The problem is that corporations believe that because they are "covered" by a myriad of derivatives, they can take on some huge bets. But these "no-risk bets" are all based on complex mathematical models, and we all know models and reality are not necessarily the same. You could safely bet that the Cubs won't win the World Series for last 99 years, but you never know…
Risks and Fallout
Inevitably, all of the these threats are weaved into a saga in which we fall into Financial Armageddon. Economic recession and then depression. Companies faltering. Stock prices plummeting. Bonds defaulting. Real estate prices dropping further. Banks and insurance companies failing. Government guarantees being removed. Skyrocketing unemployment. Entitlement programs are cut due to the lower tax revenues. Rising crime and gang activity. The government tries to print more money, leading to hyperinflation, with the prices of food and other commodities doubling every few months.
Planning
This is the most disappointing part of the book, especially since it offers to "protect our future" on the cover. So what do we do to prepare for Armageddon?! Stop spending so much and save more money for a rainy day. Okay… What about all these dropping stock and bond values? Unfortunately, there is just some vague advice about having to be "smart" and "quick" to make money from the volatility. For the rest of us, we should simply sell everything and buy physical gold because our paper money will be inflated until it is worthless. The old "buy and hold stocks" idea is useless now. We should also buy all the physical goods we can with our cash before hyperinflation hits. Perhaps this really is the best plan, but I was hoping for something more substantial than what I call the standard "buy gold and stock up on Spam 'n toilet paper" strategy.
Summary
Panzer points out that not one recession in the past 50 years has been predicted in advance by a majority of top economists. While this is supposed to scare you, all it did was remind me that predicting the future reliable is pretty much impossible. I enjoyed reading the first half of this book, because I do think that such a scenario can happen at least to some degree, and the books does a good job of pointing out many of the weaknesses in our financial system. Moreover, it is simply a good "doom and gloom" story that is entertaining to read. Indeed, some of it has already happened! However, I did not find much insightful information in this book on how to actually protect myself from such a collapse.