I'm happy to say that our hardwood floors are fully installed! The bulk of the credit has to go to my father-in-law, who while he has never installed any hardwood flooring before, provided the peripheral knowledge and common sense that is need in doing such home projects. My wife and I basically served as unskilled day laborers. 🙂 If you're looking to install your own wood flooring, you might want check out my previous post on picking out what type of flooring to buy and how to install it. We had a concrete subfloor, and we chose to float an engineered hardwood flooring over it. This might not be the best choice for everyone.
Prepping the Concrete Floors
The first part of installation is to make sure you have a relatively level subfloor. A rough rule of thumb is that you want to see no gaps thicker than 1/8″ of space if you lay down a 5 ft-long straight piece of wood like a 2×4 flat on the ground. (Or 1/4″ every 10 feet.) This part is important in order to avoid squeaks and squishy spots, and lazy installers (both hired and DIY) will simply lay over anything remotely flat. If you do demand proper prep and your floor isn't flat, this can add to installation costs when contracting it out (and therefore savings if you do it yourself).
We were hoping preparation would just mean scraping excess carpet glue or drywall mud off of the subfloor. But we found that we actually had a good-sized area which was not flat at all. We tried using a hand grinder at first, but in the end we rented what they called a concrete planer in order to grind it down flat. It is a beast and we ended up with over 30 pounds of concrete dust everywhere. We had put up tarps, but it still got everywhere. This would have been horrible if we were already living in the house, luckily we weren't. I think it cost about $250 to rent for a day.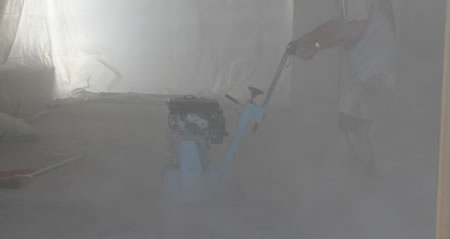 Laying Underlayment


Next step was to lay down a thin blue foam underlayment on top of the concrete. The underlayment is designed as a moisture barrier between the wood and the concrete, reduces sound, and also adjust for the remaining minor irregularities in the subfloor. We just taped it down with duct tape. Some newer flooring products actually have this already on the bottom of the flooring.
Connecting The Pieces Together
Our flooring was tongue-in-groove, with glue applied in the grooves. Some other types allow you to simply click together, but we found this was mainly for laminate flooring. We put in spacers at the walls, as the floating floor has to be allowed to contract and expand with the seasons. Trim is added later to hide the gaps. You'll need some sort of table or chop saw to cut the pieces to fit when you reach the other wall and at corners.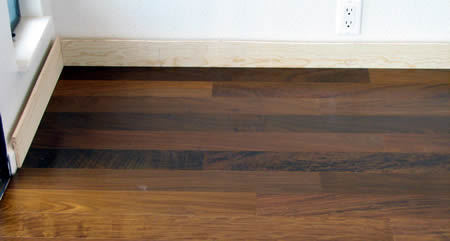 Trim and Moldings
Finally to make everything look nice, you'll need to install moldings at walls, doorways, and transitions to other floor types. You'll also have to cover up all the nail holes with putty so they don't show. This all takes a lot of patience to do well, which can be tough when you're tired of installing wood and you just want to be done already.
Final Verdict and Parting Advice…
We are very happy with the final product. I think anybody who is reasonably comfortable with tools and has the proper patience can perform this activity, the only question is if you actually want to. Either using up a week of vacation or giving up all your weekends for a month isn't always fun, although I did learn a lot and lost some weight in the process. Oh, and there's always the several thousand dollars in installation costs that we saved.
We do have some squishiness in the floor when walking on it, but it is not very prominent and we don't mind. Of course it wouldn't be there at all if we decided to do a glue-down floor, but I think it was still worth it to float given the time saved and the ability to easily fix any mistakes as we went.
As for parting advice… buy good knee pads! My father-in-law is old school and tough, and didn't ever wear knee pads the entire time, so I figured I didn't need them either. On the second day of installation, I started seeing red spots all over the underlayment. Did someone spill ketchup? Nope, my knees had blistered and were bleeding all over the place… Good knee pads are worth every penny. In general, it is worth it to buy the proper, quality tools for the job. If you're doing this is as a weekend warrior type of activity, it takes a lot of determination to finish everything, so there's no need to make things harder on yourself.