[This is Part 3 of an ongoing series about how to make money from 0% APR balance transfers.]
Before I start, someone said that it's too easy with Citibank, and can I do an example with another issuer. Sure. Let's run through it with the Discover More Card this time.
First, you do all the scouting and find the following:
Annual Fee: NONE

Balance Transfers APR: 0% until the last day of the billing period ending during May 2009*, then the standard APR for purchases
Annual Percentage Rate ("APR") for Purchases: 0.0% until the last day of the billing period ending during November 2008;* then the standard APR, a rate between 10.99% and 18.99%**

BALANCE TRANSFER FEE: 3.0% for each balance transfer made under this offer, with a minimum of $10 and a maximum of $75.
Ok, no annual fee, 0% APR until May 2009 (as of this most recent update, perhaps even longer than 12 months) on balance transfers (note the specific wording though, also the exact date may be different depending on how long ago I updated this post). The balance transfer fee is 3% capped at $75.
This means if you transfer $7,500, then $75 is only 1% of that balance. Transfer $15,000, and that's only a 0.50% fee, and so on. You can still make this up and create profit.
Application Process
Credit card applications are pretty much the same all around, but there are some things to note.
Housing Information
They always seem to ask if you rent or own, your housing payment, and how long you've stay at your address. Part of this is probably identity verification, and part of it is screening on their end. So I wouldn't lie here because you think owning is better. Any mortgage should show on your credit report anyways. I both rent and move a lot, and I haven't had any problems getting cards.
Employment Information
Same deal, tell the truth. I'm not sure about all companies, but often if you are a full-time student, credit card companies will be more lax with you and still give you a card even with low income.
Household Financial Information
This is important. And vague: Household Annual Income. This number is important. For one, most low-interest cards like this that target people with good credit have a minimum income requirement. It may not be that high but it's there.
Second of all, it helps determine your credit limit. For the purposes of this activity, you want the highest credit limit you can get. In a way, I think it's intentionally vague so they can offer you more credit (and earn more potential interest). So you want to say your household annual income is as big as possible. Include everything – your parents income, your roommate's income, interest income, dividend income, money from grandma. If you can get into that next bracket, all the better.
In this case, Discover is upfront about it:
Except for full-time students, you must have a minimum annual household income of $15,000 to be considered for any Discover Card account. For highest credit line, please include all sources of annual household income.
There are two screens and 7 steps where you enter your information. Click on 'Submit Application' (don't worry, it's not the last page), and the next screen will ask you for balance transfer information.
Getting Your Money
As part of the application, they will ask you if you want to make a balance transfer, how much you want, and where you want it to go. They want your balances!
How much you want?
When requesting a balance transfer amount, I recommend for reaching for the sky. Ask for double or triple what your current limits are, or even higher. They won't reject you for asking for too much, in the end they get to decide what kind of credit limit you can get. For example, if you just ask for $5,000, maybe they'll just give you $5,000 or $7,000. But if you ask for $10,000, they may just give it to you as that means more guaranteed business for them.
When I applied for the Discover Miles Card, I asked for a $15,000 in balance transfers and got an $11,000 limit. I only had one Discover card a few years before this one, so I was pretty happy.
While you may want to ask for the balance transfer with the application to haggle a higher credit limit, other times you may want to put it off. This is so you can transfer some of the credit limits on your other cards within the same issuer in order to get a much higher limit. For example, if you got a $10,000 limit on your new AT&T/Citibank card and already had $10,000 on another Citi card, you could make it so that you had $19,000 on the new card and leave $1,000 on the old card.
Getting the Money Directly
Some card issuers may allow you to issue yourself a check for the balance transfer amount, or even deposit it electronically into your bank account with bank account and routing number. The latter is preferred since you'll be losing potential interest while the check is in the mail and waits to clear. Two banks I have gotten direct checks are AT&T/Citibank and Chase, but this may vary. This is by far the easiest way to get your money.
Citibank is the easiest to get a check from. Click here for a step-by-step guide on how to request a balance transfer check online after you get the card.
Indirectly
If they don't, then you'll have to do it indirectly. This will require another credit card, and it doesn't even have to have a balance. Let's say you request a $10,000 transfer from Card A to Card B. Once approved, it will show up on Card B as a $10,000 payment, and you will now have a negative (credit) balance on card B. If you make a lot of purchases you could just use it up that way, but most people will have to ask for a credit balance refund in the form of a check.
It matters what card issuer you use for Card B. AT&T/Citibank is the easiest to transfer TO as well, in the fact that you can request it online directly and without even human interaction. Here is a screenshot of the menu option you should look for: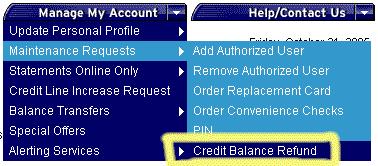 I've gotten negative balances even greater than my credit limit with Citi (ex. credit limit $5,000 and then goes to -$10,000 with a received transfer), with zero problems.
I have also done this with American Express by calling in. Sometimes they will make you wait for a few days to make sure the payment clears before issuing the check. Now, if you send a big fat payment to a card that you never use, they might become suspicious. I have sent it to my American Express Starwood card which I already use regularly as a rewards card, and they've never given me a hard time.
Do not send it to MBNA, they may reject the transfer. I have also reported some success with Discover in the past, but I am not so sure about Chase, Advanta, and others. If you do try one of these, it's better to use a card that already has a balance on it to fly "under the radar". Honestly, I almost always just use AT&T/Citibank, switching to a different Citi card sometimes if I do more than one a month. Last time I used American Express was mainly an experiment to make sure they still did it.
With my Discover Miles card, I sent $7,000 to Citibank and $7,000 American Express. American Express sent me a check for the overpayment after verifying the balance transfer with Discover, which ended up making their check arrive about 4 days later than Citibank's.
Either directly or indirectly, you should have money now in the form of a check or online transfer.
Where do you put the money?
If you already have higher-interest loans, like a home equity line of credit or other credit card debt, you could just move it there.
Otherwise, I recommend putting the money into an FDIC-insured or similarly safe checking or savings account that is relatively liquid. Here are some online savings account options, and this is my current setup to maximize interest. One reason why is that you must still make the minimum payments on the card, with are usually about 2% of the principal. So on $10,000 that would about $200 a month, decreasing each subsequent month as you pay it down. The second reason is more practical – if somehow you make a late payment, you can minimize the damage by simply paying the entire balance off immediately. Even at 20% APR, if you can pay it off in a few days the damage won't be devastating.
Of course, some people may place it into bonds, dividend-yielding stocks, or other investments. To each their own, but I would not take that kind of risk for short-term loaned money.
Next up: Setup and management of the balance transfer. How do you manage the payments and due dates?
—
Skip To Another Part
I. Introduction and Warnings About 0% Balance Transfer Offers
II. Scouting For 0% Balance Transfer Offers
III. Application Tips and Getting Cash From 0% Balance Transfers
IV. Setup And Management of 0% APR Balance Transfers
V. Best Pre-Screened No Fee 0% APR Balance Transfer Offers